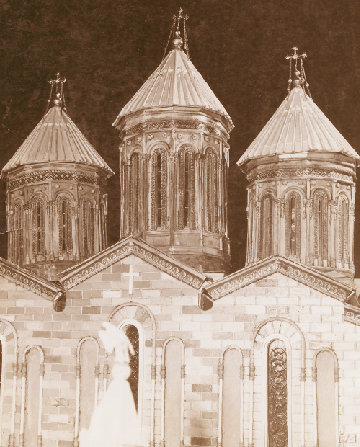 Vank Cathedral is located in Atoneli street, former Gareubani (or Big Vank) street, on the right bank of the Mtkvari River. Vank Cathedral foundation laying historically dates back to the time of St. Gregory the Illuminator (Senior Priest Gyut Agayants, "Armenians in Georgia", "Taraz", 1919 г., №6), and it is considered that the temple was constructed in 931. "Vank Church was built in 931 by spiritual brothers Umek, Sujap, Aryuts and Jalap"(ՀԱԱ, ֆ. 332, ց. 1, 102, թ. 2. See also P. Muradyan "Armenian Epigraphy of Georgia" Tbilisi, Yerevan, 1988, p. 49).
Many great men were enchanted by the beauty and power of the Armenian temple. Nikolas II of Russia, French traveler Jean Chardin, scientist Anton Guldenshtadt and many others visited Vank at different times.
Vank consisted of many different structures, such as: three domes, bell tower, tower, gates, ring-wall, chapel, museum, residence, etc. The cathedral was an uncommonly remarkable structure: "…three-nave (sixpillared), three-altared and three-domed Vank Cathedral is like a three-nave (sixpillared) porch-chapel, attached to the Church of the Virgin Mary of Sanahin Monastery in 1211." (L. Melikset-Bek, «Armenians of Georgia», «The Caucasus andByzantium », Yerevan, 1979 , p. 178.)
Throughout its centuries-old history Vank underwent many changes and reconstructions. The restoration of structure in 1480 was so thorough that subsequently this date began to consider the date of the church foundation: "…the church was built at expense of Tbilisi citizens(mokalaki) Avsarkisov, Bastamov, Nazarbekov, Ozaantsev and the Georgian prince Solagov in 1480…"( L.M.Melikset-Bek, «Georgian Sources about the Armenians and Armenia», հ Գ, Yerevan, 1955 , p. 265).
In the 18th century the cathedral also underwent regular restorations, in the days of the Catholicos of All Armenians Astvatsatur (1715-1725) and during King Vakhtang VI reign in Georgia (1719- 1724) "Thanks to God and our Lord Jesus Christ, during the reign of King Vakhtang VI and powerful son Bagrat, and patriarchate of His Holiness Astvatsatur, the leadership of Astapat Vardapet Petros the holy church named after our Illuminator was built, at expense of pious Khoja Giorgi Gulunts, in memoriam of him, his parents, wife, and all strong sons. Now, who is reading this, ask God for mercy." (Brosset M., rapports sur un voyage archeoiogique dans ia Georgie et dans 1 Armenie, II 1., St.-Petersburg, 1850, cinquieme rapport: 114, p. 115, 94, II, p. 59. See also P.Muradyan «Armenian Epigraphy of Georgia» Tbilisi, Yerevan, 1988, p. 53).
In the 19th century Vank underwent not only many changes, but also was replenished with new constructions. The museum, gates and the residence were built, inscription on the construction of which was carved in the wall of the bell tower and has been preserved until now: "In conclusion of verbal instructions of my spiritual father, people loving Catholicos of all Armenians Nerses, I, Sargis, humble Bishop Khasan Jalaliants completed the residence of Tbilisi in 1861 and I beg / to remember on a day when the words run out and the deed will reign." (P.Muradyn, selected works, pp. 57-58 and so forth).
In 1893 at the initiative of Michael Tamamshian and on benefactor Avetis Gukasian's money the building of Gukasian Religious and Historical Museum began. On February 21, 1902, on St.Vardanants Day celebration, the Catholicos of All Armenians Khrimyan Hayrik conducted the solemn opening ceremony of the museum. ("Luma", 1902, Book II, pp. 236-237)(" Vank Cathedral Religious and Historical Museum Opening"). By the decision of Tbilisi municipality in 1939 the museum building was demolished …
In 1882 Vank needed urgent restoration. In connection with the 400th anniversary of the cathedral it was decided to destroy the church and to build a new one on its place. («Ardzagank», 1882, № 10). However, on March 4, 1884 a committee was convened to solve the issues of Vank restoration, the members of which were Hovhannes Chitakhian, Alexander Mantashiants, Isaak Tsovianiants, Harutiun Shamkhariants, Gabriel Sundukian and Alexander Sundukiants. («Ardzagank», 1884 , № 10, p. 142) The restoration was finished in 1901, the Primate of the Diocese Archbishop Gevorg Sureniants anointed the temple. («Masis» 1901, № 52, (December 29), p. 832). Like many other churches of medieval Armenia, Vank in Tiflis owned several estates. For example, 23 residential premises belonged to the temple in 1816. (ՀԱԱ ֆ. 53, ց. 1,գ. 3320 ,թ. 6).
In 1920-30s' Vank was derelict, but it still survived. In 1938, by the decision of Tiflis State Council it was decided to destroy sacred to the Armenians temple. In the periodicals of that time was written that this decision was supposedly made at the request of Armenians: "The representation of Tiflis Council satisfied the request of Tiflis Armenian workers, who asked to destroy the building of Vank Cathedral. The land will be allotted for construction of a secondary school. " («Soviet Georgia», 1938 , №85, September 23).
From 1937 to 1938 Vank was completely demolished, and on its place operating till now Armenian Public School 104 was built. Only the bell tower, which became a silent witness to the past glory of magnificent Armenian cathedral, has survived. The preserved part of the residence today is just a simple apartment house.
Vank Cathedral had a cemetery. It has existed since at least the Middle Ages, but as in due time adequate precautions to preserve sacred historic monuments were not taken, the preserved and known to us gravestones date back to the 19th and the 20th centuries. The remains of noble Armenians are buried at Vank cemetery: that are the Primates of the Diocese – Archbishop Gabriel Ayvazian (1812-1880), Bishop Khoren Stepanian(1840-1990), Archbishop Yesai Astvatsaturian, Archbishop Garegin Satunian (1852-1910); generals Koms Loru Melikian (1824 -1888), Arshak Ter-Gukasian(1819-1881), Beybut Shelkovnikiants (1837-1878), whose remains were transferred and buried in graveyard of Surb Gevorg Church; Tbilisi Mayors - Alexander Matiniants (1843-1909 ), Pogos Izmailian (1852-1895), State Counsellor David Gorganiants (1831-1900); playwright Gabriel Sundukian(1825-1912, whose remains were transferred to the Tbilisi Pantheon of the Armenian Writers and Public Figures "Khojivank"), chief editor of "Ardzagank" newspaper Abgar Hovhannisian (1849-1904), chief editor of "Megu Hayastani" newspaper Petros Simonian(1830-1911); benefactors – Alexander Mantashiants (1849-1911) (his tombstone was transferred to the yard of Surb Etchmiadzin Church in Tbilisi), Hovsep Eyfediants (1806-1862) and other benefactors…
The article is based on unpublished work by S. Karapetian "Armenian Churches in Georgia."
Norashen 2007/1, р. 7-8