News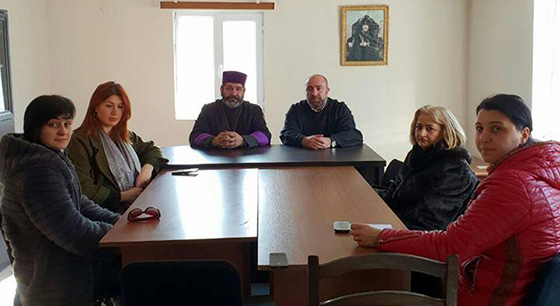 On January 19, 2019, the Primate of the Armenian Diocese in Georgia, His Grace Bishop Vazgen Mirzakhanyan presided over a meeting-consultation with the participation of the spiritual superintendant of the region Rev. Father Hakob Sahakyan, Director of the Center Asya Baboyan and teachers of groups at the Vardges Surenyants Educational, Cultural and Youth Center in Akhaltsikhe.
His Grace listened attentively to the speeches representing the activities carried out of Rev. Father and pedagogues, after which he presented in detail his vision about Center's future activity.
His Grace Bishop Vazgen Mirzakhanyan informed that jubilee events dedicated to the 150th anniversary of Hovhannes Tumanyan and Komitas Vardapet (celibate priest) will be held in 2019. The events will be held not only in the capital Tbilisi, but also in regional centers and urged to carry out activities to celebrate these jubilees.
The Diocesan Primate informed that in the nearest future a consultation with heads of centers and pedagogues will be held at the Headquarters of the Prelacy of Akhalkalaki, during which the functions of the educational and cultural centers will be discussed in more detail and appropriate instructions will be given.
His Grace Bishop Vazgen Mirzakhanyan also highly appreciated the activity of spiritual superintendant Rev. Father Hakob, as a result of which the Akhaltsikhe region has become more active.