News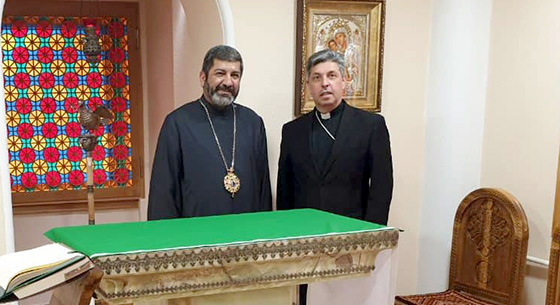 On February 8, 2019, at the invitation of Archbishop Jose Avelino Bettencourt, Ambassador of Vatican to Georgia and the Republic of Armenia, the Primate of the Armenian Diocese in Georgia, His Grace Bishop Vazgen Mirzakhanyan, accompanied by Nina Seropova, Youth programs coordinator of the Armenian Diocese visited the Embassy of the Vatican City State.
His Grace Archbishop Jose Avelino Bettencourt warmly welcomed His Grace Bishop Vazgen Mirzakhanyan and asked to convey his greetings to His Holiness Karekin II, Supreme Patriarch and Catholicos of Al Armenians, said that there always were good and warm relations between Vatican and the Holy Etchmiadzin which have been shaped by the common vision of church mission and mutual respect.
The Primate of the Armenian Diocese in Georgia expressed his gratitude for warm reception and mentioned that Armenians both in motherland and Diaspora have a great love for Pope Francis, because he is a fair and brave pastor who protects the fair trail of the Armenian people and recognition of Armenian Genocide by the civilized world. He touched upon the power of Christian faith which was the great inspiration of the spiritual culture created by the two churches and which trained and educated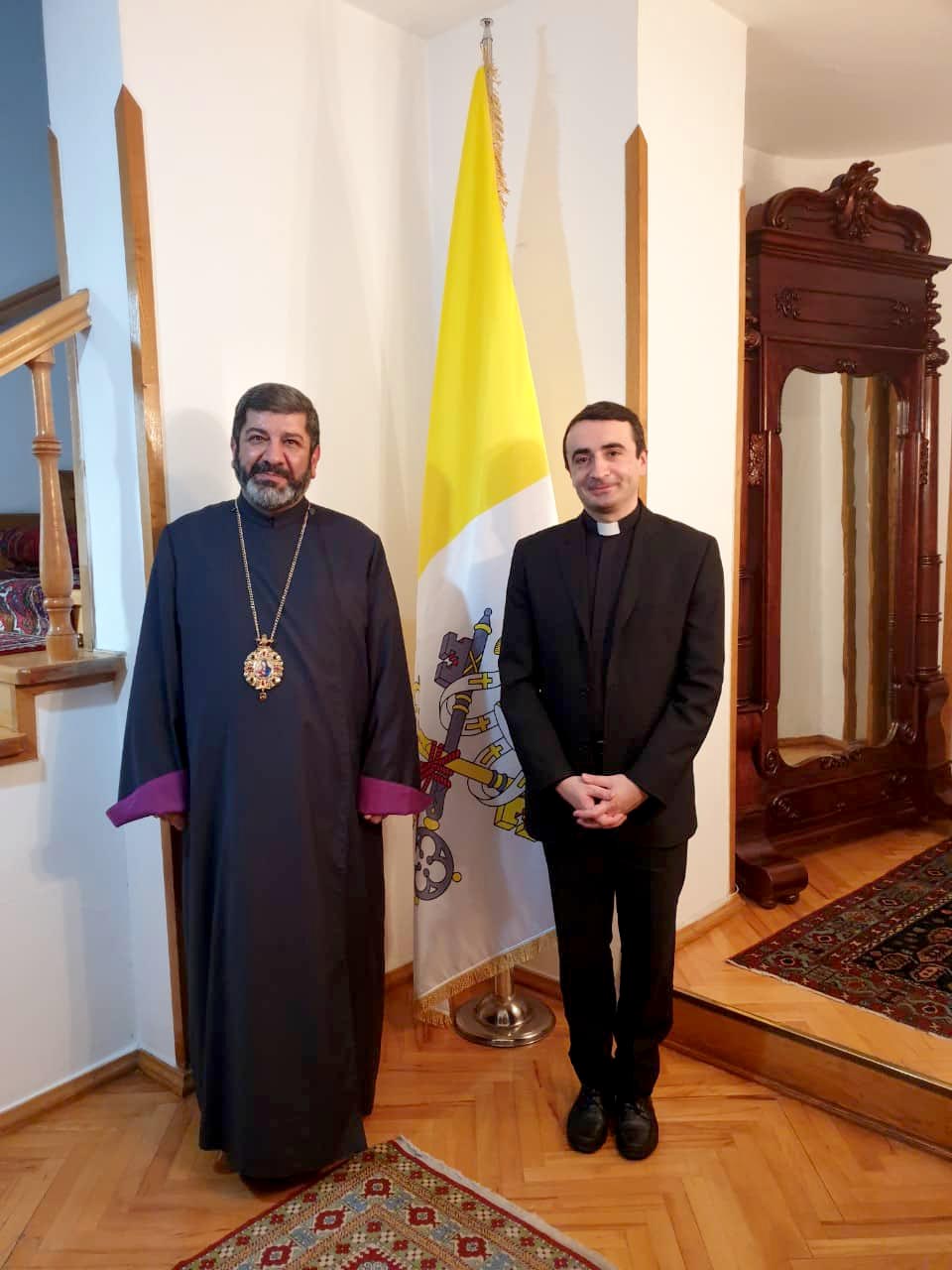 the followers of the two churches for centuries.
Ambassador Bettencourt informed that Secretary of the Embassy Rev. Father Mihaita Blazh completes his mission in Georgia and returns to Africa to continue his diplomatic service there.
His Grace warmly spoke about the latter because he has known him for a long time and wished him success in his service. The Diocesan Primate conveyed to the Vatican Ambassador the warm greetings of the Ambassador of Armenia to Georgia.
During the conversation the issues of concern to the two countries were touched upon. The issue of return of historic churches to their owners also was touched upon and the interlocutors expressed hope that democratic Georgia, staying true to its commitments, will have a good will to return to Christian communities the temples seized during the Soviet era.
The meeting took place around the table of love.
At the end of the meeting, Ambassador of Vatican presented the Embassy building and informed that the Holy Altar and reading-desks were gifted by His Holiness Karekin II, Supreme Patriarch and Catholicos of All Armenians.
The Primate of the Armenia Diocese in Georgia, His Grace Bishop Vazgen Mirzakhanyan thanked for the warm reception and presented the Ambassador of Vatican with souvenirs and dried fruits made in Armenia.