News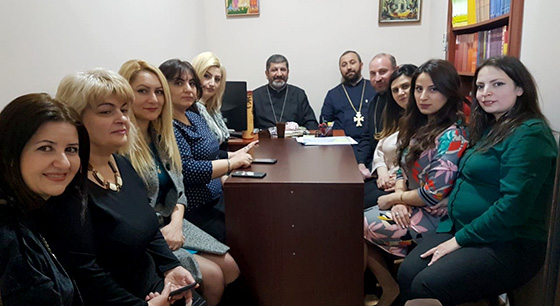 On April 3, 2019, within the framework of his visit to Ozurgeti and Batumi, the Primate of the Armenian Diocese in Georgia, His Grace Bishop Vazgen Mirzakhanyan had a meeting with pedagogues of the Alexander Mantashev Educational, Cultural and Youth Center in Batumi. The meeting was attended by Rev. Father Maghakia Amiryan, the Prelate of Samtskhe-Javakheti and Tsalka's General Prelacy of the Armenian Diocese in Georgia; Rev. Father Ararat Gumbalyan, the Pastor of Armenians in Adjara, Guria, Imereti and the Saint Savior (Surb Prkich) church in Batumi.
During the meeting, the Center's activities were discussed highlighting the activity of the Armenian-Georgian class opened in N 4 school of Batumi during this academic year, in was mentioned that this class could be a good example for various communities worldwide.
His Grace Bishop Vazgen Mirzakhanyan touched upon the large-scale cultural activity, restoration of traditions and implementation of jubilee events which spread becoming acceptable by also for Georgian society. Therefore, the educational and cultural centers operating beside Armenian churches play an important role in maintenance of the Armenian identity.
The Diocesan Primate congratulated the staff of the Alexander Mantashev Center on the occasion of expansion of the center's area which was financed by the Jinishian Memorial Foundation.
His Grace Bishop Vazgen Mirzakhanyan urged the pastor and center's leadership to open a similar center in Kobuleti city.
On behalf of the teachers of the Alexander Mantashev Center, the director of the Center Sona Hovhannisyan expressed her deep gratitude to the Diocesan Primate for supporting and directing all their initiatives and projects, as well as finding out funds for the expansion of the center area, she promised to continue to work for the benefit of the preservation of the national values among Armenians in Batumi, Ozurgeti and other Armenian communities.