News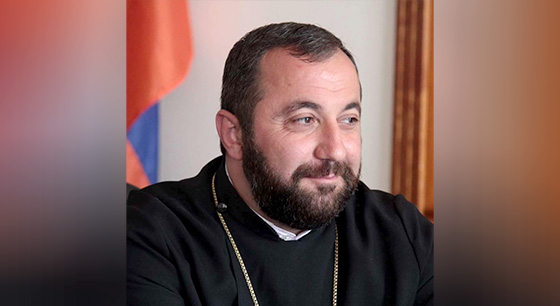 On April 5, 2019, the solemn welcome celebration of the Prelate of Samtskhe-Javakheti and Tsalka's General Prelacy Rev. Father Maghakia Amiryan took place at the Samtskhe-Javakheti and Tsalka's General Prelacy. The meeting took place in a warm atmosphere saturated with love which showed the unity of the church, people, leadership and the society, which was established thanks to the joint activity of the Diocesan Primate, clergy and officials.
The solemn ceremony was attended by clergy of the General Prelacy, Mayor of Akhalkalaki Yurik Unanyan and the Chairman of the Akhalkalaki Municipality Assembly Nairi Iritsyan, Mayor of Ninotsminda Anivard Mosoyan and Chairman of Ninotsminda Municipality Assembly Smbat Kyureghyan, member of Akhaltsikhe Municipality Assembly Hambardzum Baboyan, head of Sport and Youth affairs Committee Ruben Karapetyan, representatives of local authorities of Akhaltsikhe, Ninotsminda, Akhalkalaki and Aspindza, intellectuals, public figures, clergymen, General Prelacy officials and directors of educational and cultural centers.
The ceremony was honored with the presence of the director of Institute of History of RA National Academy of Sciences, academician Ashot Melkonyan.
Members of Georgian Parliament Henzel Mkoyan and Samvel Manukyan did not attended the ceremony because of their presence in Tbilisi, but they conveyed their greetings and congratulations to the newly appointed Prelate. The Diocesan Primate His Grace Bishop Vazgen Mirzakhanyan introduced the newly appointed Prelate Rev. Father Maghakia Amiryan who received the honorary rank with blessings of His Holiness Karekin II, Supreme Patriarch and Catholicos of All Armenians conveyed to attendees the blessings and love of His Holiness and mentioned that Armenians from Javakheti are always in the center of Catholicos's care and attention.
Afterwards, His Grace Bishop Vazgen presented to the attendees the spiritual activity and education of Rev. Father, characterized him as a responsible clergyman devoted to his service, wished him success in the Prelate's honorary mission.
His Grace expressed his high appreciation to long-term successor of Rev. Father Maghakia, Archbishop Babgen Salbiyan who carried out his mission in a difficult period.
The Diocesan Primate also conveyed his blessings to the authorities, clergy and intellectuals, public figures who supported the establishment of General Prelacy.
Then, Rev. Father Maghakia expressed his filial gratitude to His Holiness for trust and thanked the Diocesan Primate and clergy for a warm welcome. He also welcomed te attendees and expressed conviction that together they would be able to make the dream and visions of revival of the spiritual life of Armenians in Javakheti come true.
Afterwards, academician Ashot Melkonyan and director of "Rafael Javakh" Educational, Cultural and Youth Center Zhora Snkhchyan made speeches. They congratulated Rev. Father and expressed conviction that a real revival in the spiritual life of Javakheti really will take place.