Deacon Longi (Gevork) Avetisyan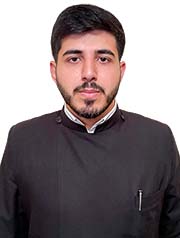 Deacon Longi (Gevork) Avetisyan was born on August 25, 1996, in Tbilisi.
2002 – 2014 Studied and graduated from Tbilisi Secondary School N 84. In the same years he studied and graduated N 10 Music School after Aram Khachaturian in Tbilisi (piano class). During his studying in the school, he worked as a volunteer at "Hayartun'' Center of the Armenian Diocese in Georgia, in Tbilisi.
2014 Entered the Gevorkian Theological Seminary of the Mother See of Holy Etchmiadzin.
2020 He was awared with Master's degree in Theology. In oreder to gain experience in pastoral activities he participated in various social projects, visited orphanages, old people's homes, care centers, different camps. With the framework of his pastoral service, he attended Armenian Dioceses in Artsakh (Gandzasar) and Great Britain and Ireland.
2018 He was ordained to the diaconate by His Grace Bishop Hovnan Hakobyan.
From October 1, 2020 He was appointed to serve at the Cathedral of Saint George of the Armenian Diocese in Georgia as a spiritual servant.
He is fluent in Armenian and Georgian.
Knowledge of Russian and English is sufficient.
Phone: + 995 592 227 234