An Armenian church of the 14th century was re-consecrated in Daragyugh village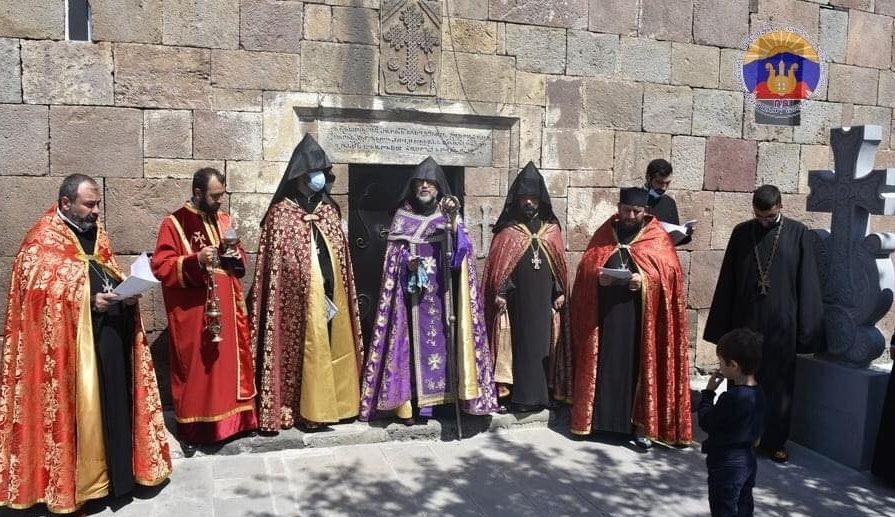 On August 28, 2021, renovated and re-consecrated Saint Harutyun church built in the 14th century opened its doors to the faithful in the village of Daragyugh, Tsalka region.
The church, which is well-known for its Divine Might, was beautified and gained a new appearance due to the charity of the famous Gagik and Rafael Aghajanyan brothers who live in Yerevan and Tbilisi.
The solemn ceremony of re-consecration of the church was honored with the presence of the Primate of the Armenian Diocese in Georgia, Rev. Father Archimandrite Kirakos Davtyan, accompanied by the Deputy Primate Rev. Father Archimandrite Nshan Hmayakyan.
The memorable and festive event was attended by Ilia Sabadze, Mayor of Tsalka; staff members of the city municipality; Samvel Mkoyan, representative of Support to Javakheti Foundation; Van Bayburdyan, editor of the "Georgia'' ("Vrastan") newsletter; Rev. Father Armash Poghosyan, Pastor of Ninotsminda region; as well as deacons, numerous faithful both locals and those who were from the nearby villages.
The church was re-consecrated by the Primate of the RA Shirak Diocese, His Grace Bishop Mikael Ajapahyan.
Congratulating the attendees on the occasion of having a renewed house of God and a place for praying, His Grace wished the benefactor brothers to continue to live with faith and devotion with their patriotic and church-dedicated activities.
Appreciation was expressed also to spiritual superintendent of Tsalka region Rev. Father Kamo Tazayan, the companies which carried out works and all the workers for organizing renovation and re-consecration of the church.
At the conclusion of the event, at the initiative of the benefactor brothers, a Matagh (Thanksgiving Animal Sacrifice) was distributed to the faithful.
Daragyugh is an Armenian-populated village, located in the Tsalka region, Kvemo Kartli province of Georgia; 15 km west of Tsalka, 1520 m above sea level. One of the historical monuments is the church which was built in 1308. In the second half of the 20th century, in 1859-1860, the villagers renovated the church.