Armenian Diocese in Georgia participated in Ecumenical Prayer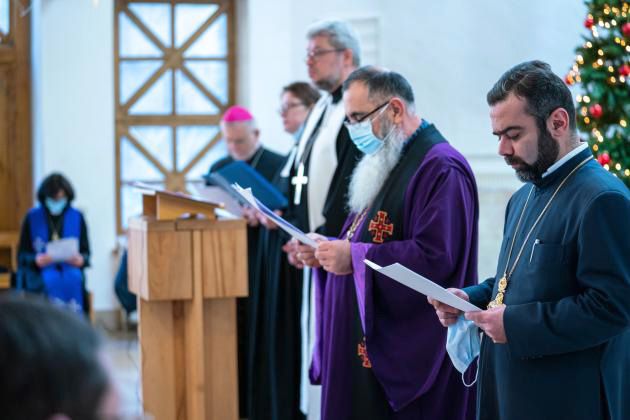 The restrictions in Georgia caused by the coronavirus pandemic, however, did not become an obstacle for the joint prayer with the participation of four Christian confessions of the country. The Ecumenical Prayer has been raised for years by the Diocese of the Armenian Apostolic Orthodox Holy Church, Roman Catholic Church, Evangelical Lutheran, and Evangelical Baptist Church. This year the organizer of the Ecumenical Prayer was the Evangelical Lutheran Church in Georgia.
On January 22, 2021, Ecumenical Prayer spread in Saint Paul and Peter Church of the Lutheran Church in Tbilisi.
The Ecumenical Prayer was attended by the Vicar of the Armenian Diocese in Georgia, Rev. Father Archimandrite Kirakos Davtyan; Head of the Apostolic Department of Latin Catholics of Transcaucasia His Grace Bishop Giuseppe Pasotto; Bishops of the Evangelical Baptist Church in Georgia His Grace Bishop Ilia Osepashvili and His Grace Bishop Rusudan Gotsiridze; Head of the Evangelical Baptist Church in Georgia, His Grace Bishop Marcus Shokh; as well as clergymen of different churches.
The slogan of the current year of the united prayer of joint service to the Word of God was ''The light from Christ warms us and leads us to God the Father.''
Accompanied by reading of passages from Bible and singing spiritual songs, the participants of different religions and faiths together prayed in sake of love, kindness, forgiveness of sins, and necessity of humanity which was also a call to hear the Word of God, to be united and establish peace in the world.
All participants spoke about the importance of the Ecumenical Prayer, highlighted that such events can bring churches' faithful closer to believe in only God and Savior Jesus Christ. The leader of the churches, bishops lit candles with the light of love and peace, asking to hear the Word of God, to be together and to establish peace in the world. Together they prayed asking for saving humanity from epidemics and war disasters.
The Ecumenical Prayer was concluded with the spiritual fathers' prayers in mother languages and their blessings.
The prayer ceremony was also attended by Rev. Father Narek Ghushchyan, the Head of the ''Saint Gregory of Narek'' (''Surb Grigor Narekatsi'') Spiritual, Educational and Cultural Center in Rustavi and Deacon Giorgi Abramyan.
Indeed, the presence of the faithful in the temple was limited, but the souls of the faithful living with the Word of God were warmed by the live stream of the Ecumenical Prayer on the internet.