Clergy meeting of Tbilisi Armenian churches clergymen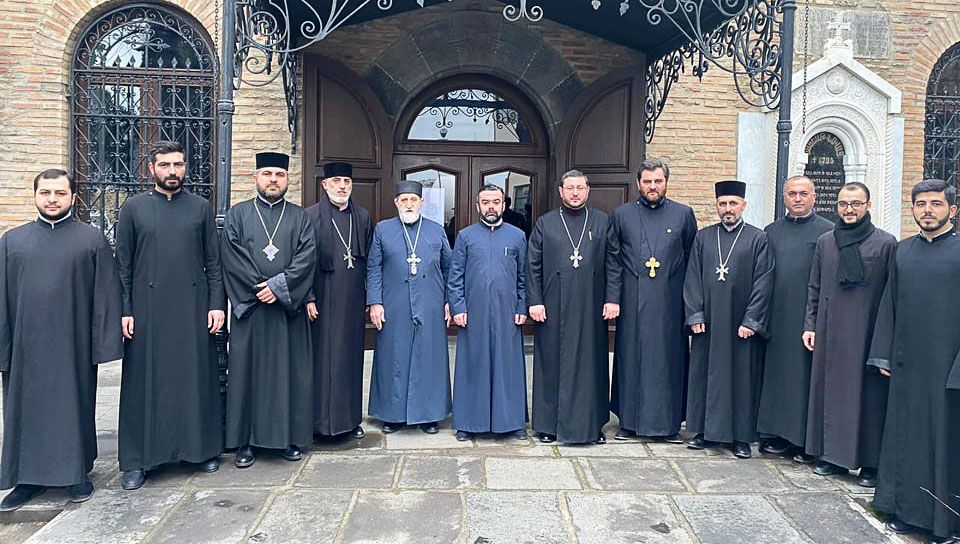 On January 12, 2021, a general clergy meeting took place at the Cathedral of Saint George (Surb Gevorg) with the participation of the clergymen and deacons who serves in the Armenian churches in Tbilisi. It began with the Lord's Prayer. The meeting was presided over by the Primate of the Armenian Diocese in Georgia, Rev. Father Archimandrite Kirakos Davtyan.
The Primate of the Armenian Diocese in Georgia spoke in detail about the programs for 2021, which come from the instructions by the Mother See of Holy Etchmiadzin and the aim of which is proper celebration of national church feasts and holidays. The vision of the programs of the Diocesan churches in Tbilisi is the unification of the Tbilisi Armenians with Christian love around the church, dissemination of the ideas of maintenance of the Armenian identity and national values, deepening of friendly relations between Armenian Apostolic and Georgian Orthodox Churches.
The clergy who were present at the meeting spoke about the mass organization of the upcoming celebrations of the feasts of Saint Sarkis, Saint Vardanants, the Feast of the Presentation of Our Lord Jesus Christ (Tiarn'ndaraj), the Eve of Great Lent (Barekendan) and other feasts; presented the humanitarian aid to the people; the charity activities which are continuous.
The clergy meeting concluded with the Protector Prayer.