Flowers were laid at Hovhannes Tumanyan's tomb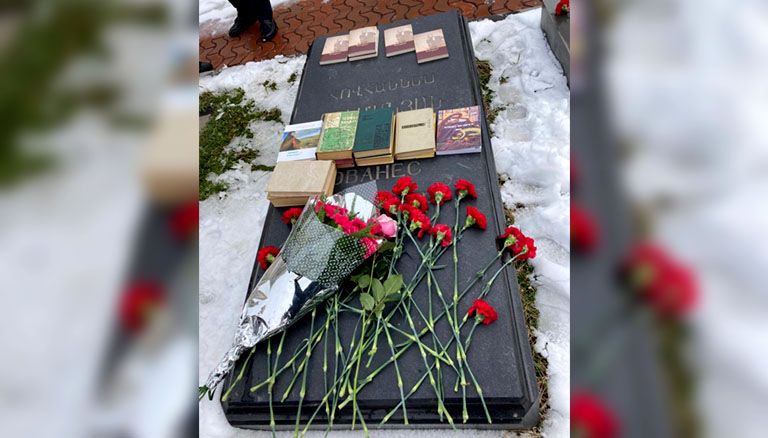 On February 19, 2021, Armenians of Tbilisi, including the young and elderly people, visited the Pantheon of greatest Armenian figures, where the great Armenian poet from Lori is buried. It was the expression of love and respect of the Armenian community in Tbilisi to the great poet Hovhannes Tumanyan, and the tribute to his memory. Ruben Sadoyan, Ambassador Extraordinary and Plenipotentiary of Armenia to Georgia and Embassy diplomats attended the Pantheon of the Armenian Writers and Public Figures ''Khojivank'' on the birthday of All-Armenian poets. Those present, including intellectuals, prose writers and poets, translators and journalists, literary, cultural and public figures, laid flowers on the tomb of the Great Poet and the other famous sons of the Armenian people.
Under the presidency of the Vicar of the Armenian Diocese in Georgia, Rev. Father Archimandrite Kirakos Davtyan, a Requiem Service was offered.
Rev. Father delivered a speech commemorating Hovhannes Tumanyan and other great figures buried in the Pantheon and urged the people to maintain respect and pride for this national place. The Diocesan Vicar touched upon the public activities of the Great Poet, the constant modernity of his literary works, the human image of the immortal poet form Lori, the steps taken by him in order to strengthen and deepen the friendship and brotherhood between the Armenian and Georgian peoples. Rev. Father also highlighted the importance of the duty to maintain the memory of the famous figures and pass it on to the next generation.
Those who delivered speeches at the near Hovhannes Tumanyan's tomb, touched upon the poet's patriotic, national, folk works dedicated to the triumph of the good and beautiful, the ideas expressed in those heartfelt and sincere works, they also emphasized the educational values and always modern wisdom of them.
Years ago, at the initiative of late Levon Ananyan, donation of books was organized on Hovhannes Tumanyan's birthday. Anahit Bostanjyan, late poetess and translator, was the person who spread and strengthened this idea among the Armenians in Tbilisi. The beautiful tradition was not broken this year either. Various books written in different genres and languages were put at Hovhannes Tumanyan's tomb. The attendees left the Pantheon taking a book with them as a symbol of a nice memory from the day.