''Gayane'' pomegranate sapling dedicated to Sergo Parajanov's memory in Khojivank Pantheon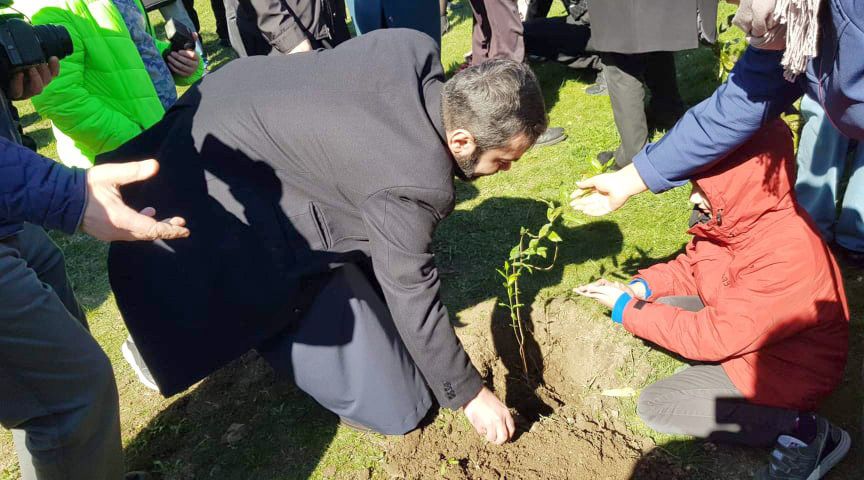 The Feast of Palm Sunday was marked with one more beautiful event at the Armenian Diocese in Georgia. After the church ceremonies celebrated on the occasion of the Feast, it continued in the Pantheon of the Armenian Writers and Public Figures ''Khojivank''. The event was dedicated to the memory of the talented film director Sergo Parajanov; a pomegranate sapling named after one of his muses – Gayane Kachatryan was planted.
The event was initiated by film director Jose Majineri. It was fulfilled with the participation of ''House of Hovhannes Tumanyan'' Center for Science and Culture as well as editorial personnel of ''Vrastan'' (Georgia) newsletter. In attendance were representatives of Armenian and Georgian culture, literature and art, people who knew Sergo Parajanov and admirers of his art.
On March 28, 2021, the Pantheon was crowded. A Requiem Service was offered under the presidency of Vicar of the Armenian Diocese in Georgia, Rev. Father Archimandrite Kirakos Davtyan and with the participation of Pastor of Karmir (Red) and Shahumyan villages in Kvemo Kartli region Rev. Father Zaven Yazichyan.
It is noteworthy that the pomegranate tree dedicated to the memory of Parajanov, who praised the friendship between Armenian and Georgian people, made that love and friendship a reality. The soil brought from Komitas Pantheon in Yerevan, were Sergo Parajanov was buried, was added to the soil, where the pomegranate sapling was planted. During these days when the pandemic spread, the bringing of the soil became possible due to efforts of chief editor of ''Vrastan'' (Georgia) newsletter Van Bayburdyan and Rafael and Gagik Aghajanyans.
Speeches parsing the friendship between two peoples were delivered again; poems in Armenian, Russian, and Georgian were recited; wonderful melody of dhol and duduk spread; Sayat-Nova's works and minstrel songs sounded performed by artistic groups, actors, and soloists of ''Hayartun'' Center of the Armenian Diocese in Georgia.
The public gladly accepted the suggestion made by Armen Bayanduryan, Artistic Director of the Petros Adamyan Tbilisi State Armenian Drama Theatre, who particularly suggested erecting a symbolic monument in memory of Sergo Parajanov in the Pantheon.
On the occasion of the day, poet Levan Tsalughelashvili handed over a painting dedicated to Parajanov, and Georgian poet Giorgi Botchorishvili entertained the attendees with Georgian wine, as a symbol of the friendship between the two peoples.