Graduation ceremony of ''Khrimyan Hayrik'' preschool students in Arakova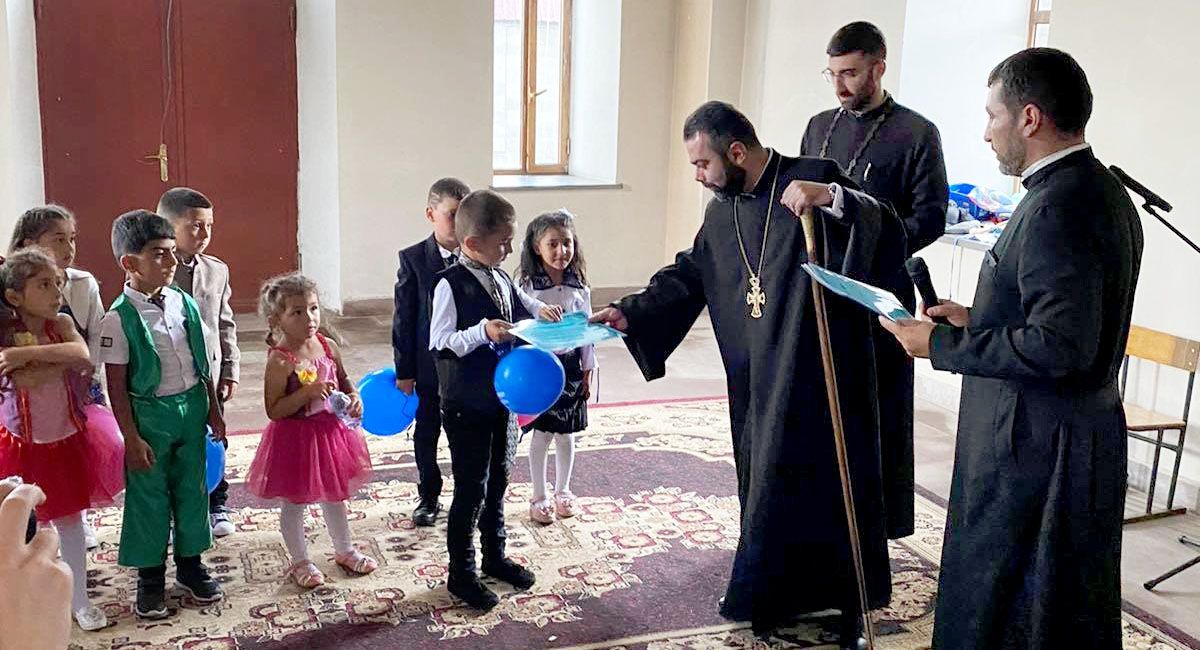 On September 2, 2020, the graduation ceremony of ''Khrimyan Hayrik'' preschool took place in Saint George church of Samtskhe-Javakheti and Tsalka's General Prelacy (Armenian Diocese in Georgia) in Arakova.
The event was honored with the presence of Vicar of the Armenian Diocese in Georgia, Rev. Father Archimandrite Kirakos Davtyan. In attendance were spiritual servants of Holy Cross (Surb Khach) church in Akhalkalaki Rev. Father Narek Tigranyan, Rev. Father Tigran Mkhitaryan, as well as spiritual servant of Saint George church in Arakova Rev. Father Tadeos Ter-Mkrtchyan. The event was also honored with the presence of Georgian Member of Parliament Samvel Manukyan, Mayor of Akhalkalaki Yuri Unanyan, Chairman of Sakrebulo Nairi Iritsyan and others. Preschool students, their parents, teachers, community leaders and guests from different settlements gathered in the church hall.
The event began with the Lord's Prayer. Festive mood was prevailed under the arches of the church. Children performed songs and dances, recitations they have learned. Short stories dedicated to the guidance from preschool to school were performed prepared due to teachers' efforts and with the participation of children.
At the conclusion of the event, priest Rev. Father Thaddeus offered his blessings and made a speech. Rev. Father Archimandrite Kirakos offered his blessings to those present, highly appreciated the devotion to the holy deed of children's upbringing and education of Preschool Director Narine Ter-Mkrtchyan, teachers Syuzi Norvardyan, Lusine Hovakimyan and choreographer Knarik Kurdoghlyan. Rev. Father expressed his appreciation towards the parents who bring their children from different settlements to the ''Khrimyan Hayrik'' preschool in Arakova every day in order to educate, bring them up and develop their aesthetic abilities. Afterwards, the Diocesan Primate offered his blessings and handed over graduation certificates, icons and crosses.
At the end of the event, Matagh (Thanksgiving Animal Sacrifice) was offered to the faithful by the village leadership. Children received a festive cake at the initiative of the parents and preschool teachers. As an expression of gratitude, the parents presented flowers to the teachers.
''Khrimyan Hayrik'' preschool of Saint George church in Arakova was established in 2008. Currently, 25 children not only from Arakova, but also from Goman, Korkh, and Totkham villages receive spiritual upbringing and initial education and knowledge on singing, dancing, and recitation.
The preschool is getting ready to start the new academic year.