Community meeting at the "House of Hovhannes Tumanyan" Center of the Armenian Diocese in Georgia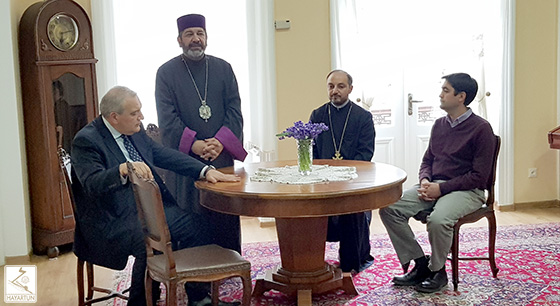 On April 17, 2019, the meeting of representatives of the Armenian community in Tbilisi took place at the "House of Hovhannes Tumanyan" Center for Science and Culture of the Armenian Diocese in Georgia.
The meeting was honored with the presence of the Ambassador Extraordinary and Plenipotentiary of Armenia to Georgia Ruben Sadoyan.
The Primate of the Armenian Diocese in Georgia, His Grace Bishop Vagzen Mirzakhanyan gave opening remarks. The Diocesan Primate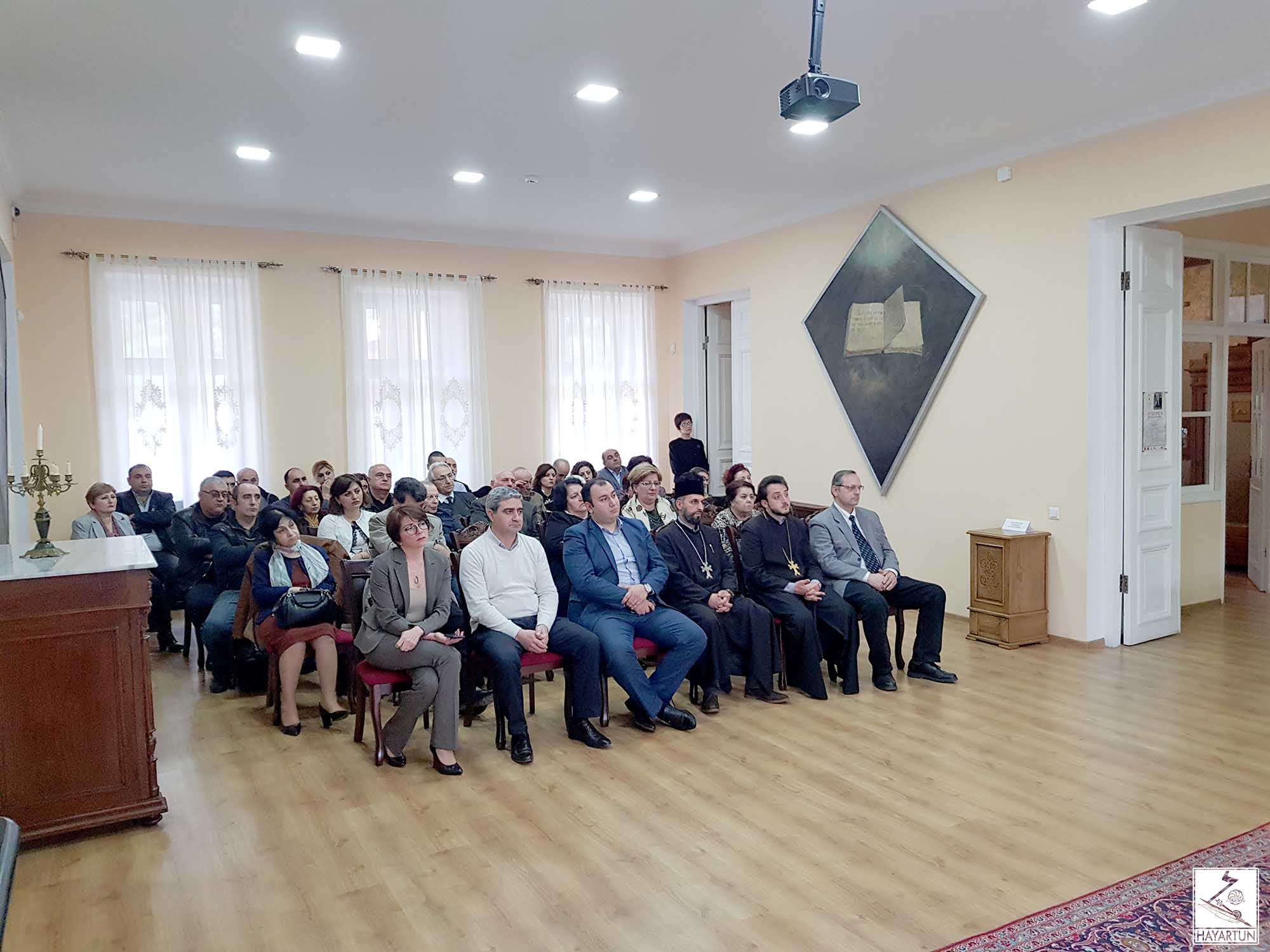 introduced Rev. Father Zaven Yazichyan who was appointed to serve in Kvem-Kartli region.
Afterwards, the Diocesan Primate presented the upcoming events planned in Tbilisi and dedicated to the 150th anniversary of Komitas Vardapet, commemorative ceremonies on April 24, dedicated to the victims of Armenian Genocide and other initiatives of the community. Head of the Armenian community in Georgia NGO Samvel Mkrtchyan, chairman of the Union of Armenians in Georgia Mary Arakelova, Levon Chidilyan, Yuri Mikirtumov and others spoke about these events.
The Ambassador Extraordinary and Plenipotentiary of Armenia to Georgia Ruben Sadoyan, highly appreciating the participation of the Armenians in Tbilisi in the upcoming community events, urged them to become more crowded.
The Diocesan Primate, who presided over the meeting, announced that he completes his mission at the Armenian Diocese in Georgia and will continue his spiritual service in Mother See of Holy Etchmiadzin.
Representatives of the Armenian community in Tbilisi touched upon the spiritual awakening of the Armenian community during the 17 tears of Vazgen Bishop's service, church building, the opening of the centers operating under the auspices of the Armenian Diocese, the reorganization of Prelacies, the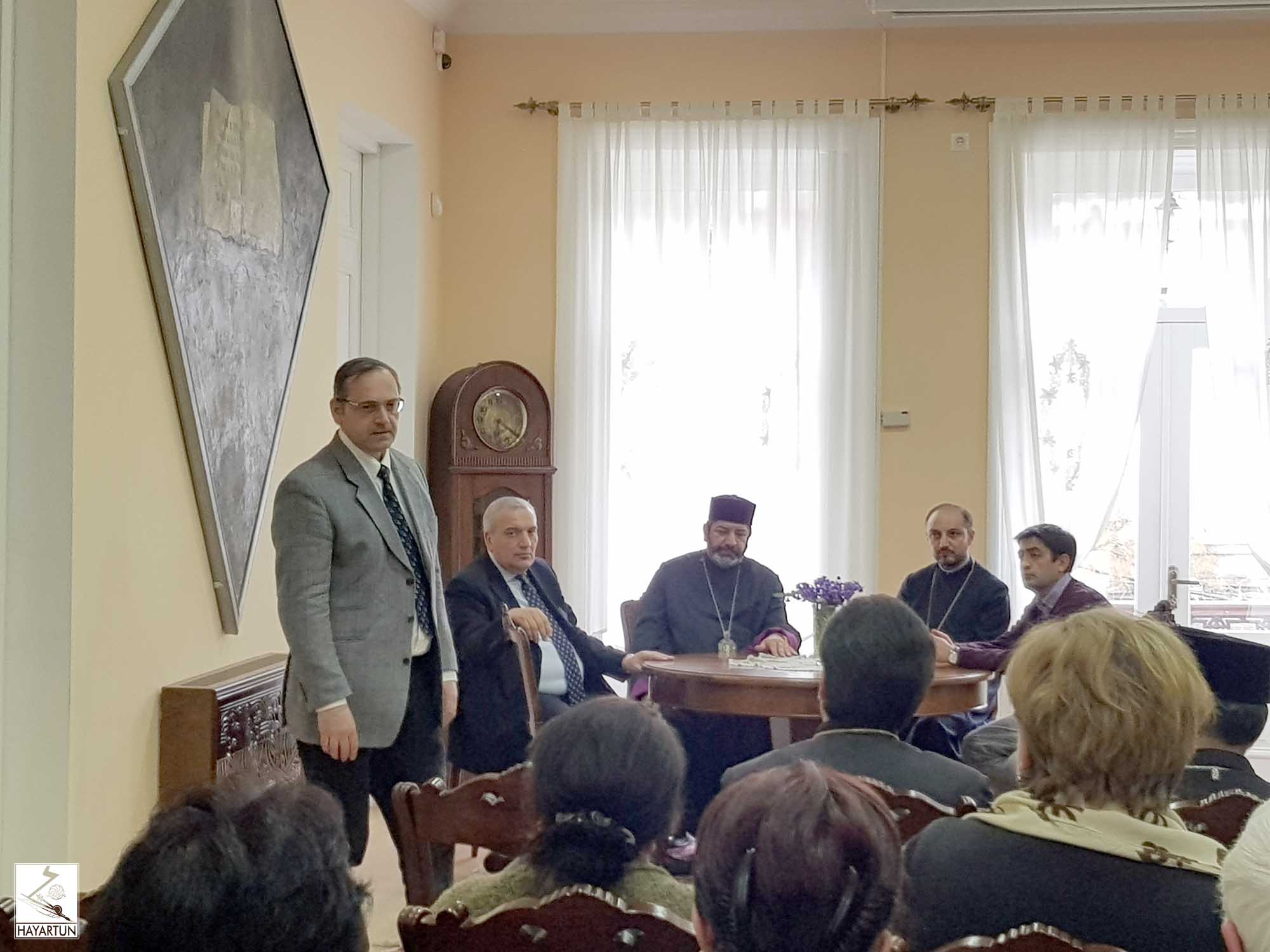 revival of cultural life the maintenance and spread of the Armenian language and national culture, the activities directed to return ruined Armenian churches to its rightful owner, as well as the unity of the community and the presence of numerous in the churches.
The attendees expressed their wish to Vazgen Bishop to continue his service at the Armenian Diocese in Georgia, but the Diocesan Primate explained to the community that he decided to return to Motherland Armenia and continue his service there.
The Ambassador Extraordinary and Plenipotentiary of Armenia to Georgia Ruben Sadoyan, the founder of the Alikmedia media and public figure Arsen Kharatyan, the head of the "Multinational Georgia" organization Arnold Stepanyan, community public figure Alik Utmazyan highly appreciated the activity of the Diocesan Primate.
Afterwards, the Diocesan Primate conveyed "Hovhannes Tumanyan 150" commemorative medal given by Northern University of Armenia to the Professor Emma Akhtyan, chairwoman of the Armenian Scientific and Cultural Center in Georgia, Candidate of Philological Sciences.