Opening and consecration of a cross-stone in Ghaurma village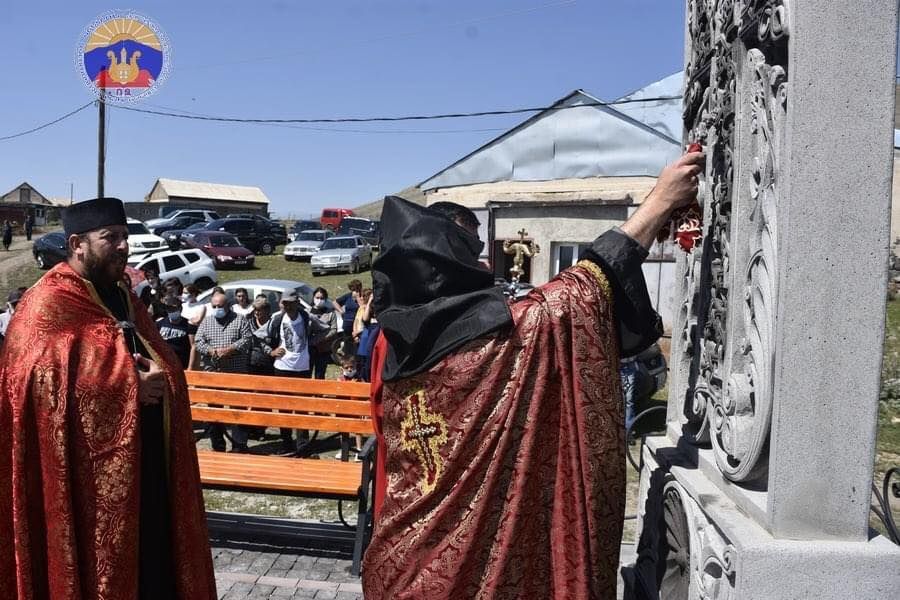 On August 29, 2021, the opening ceremony and consecration service of a cross-stone (in Armenian: khachkar; khach – cross, kar - stone) took place in Ghaurma village, Ninotsminda region. Indeed, the cross-stone which symbolizes remembrance, was blessed as a symbol of eternity, holiness and might.
The opening ceremony and the consecration of the cross-stone were solemn. The Acting Mayor of Ninotsminda Anivard Mosoyan, Acting Chairman of the Sakrebulo (City Assembly) Vahan Aroyan, representative of the Support to Javakheti Foundation Samvel Mkoyan and other officials gathered here.
The cross-stone was erected on the initiative and charity of Sayat Mkrtchyan, who was born in Ghaurma village and lives in Russia. The sculptor is Ara Gharslyan. According to the benefactor, the cross-stone has an aim not to leave the village, so that it does not become just a cross-stone of remembrance but also retains the mystery of life.
The blessing service of the cross-stone was offered under the presidency of the Primate of the Armenian Diocese in Georgia, Rev. Father Archimandrite Kirakos Davtyan and with the participation of the Pastor of Ninotsminda Rev. Father Armash Poghosyan.
The Diocesan Primate offered his blessings and expressed his appreciation to the benefactor and his family, attached importance to the existing nearby spring which has the meaning of life, development and prosperity of the village.
Although the number of the attendees was limited because of the pandemic, the local residents highly appreciated the benefactor's initiative.
Within the framework of the visit, the Primate of the Armenian Diocese in Georgia, Rev. Father Archimandrite Kirakos Davtyan visited the house-museum of famous Victor Hovsepyan, who was born in the village of Heshtia, and offered his blessings to Hovsepyans' family members, who keep carefully the literary legacy of the prematurely deceased poet and make new pages of his works known to readers.