Steps to implement the Jinishian project in Javakheti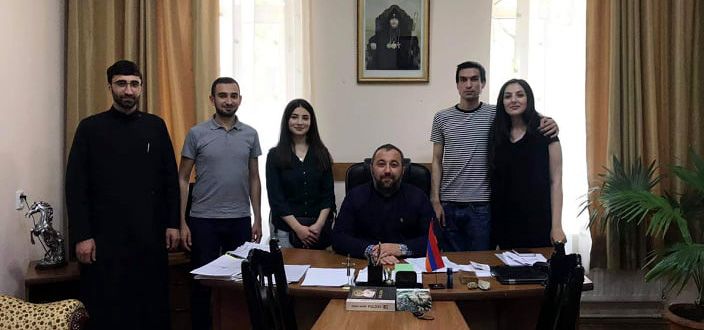 On June 3, 2020, with the blessings of Vicar of the Armenian Diocese in Georgia, Rev. Father Archimandrite Kirakos Davtyan, staff members of the Diocesan Youth Department Gevorg Poghosov and Nina Seropova, led by Emil Sargsyan, the coordinator of projects of Jinishian Memorial Foundation in Georgia left for Samtskhe-Javakheti region with a working visit within the frameworks of ''Civic dialogue and practical steps for changes'' project.
Within the frameworks of the abovementioned project, Department of Youth implement a sub-project, the target of which is the various segments of society. This year a video about Armenian students studying in Tbilisi universities from different regions of Georgia is being shot. They are the students who are successful in their studies, receive high professional qualities, knowledge of official language of the state, and integrate into Georgian civil society. Five participants from Tsalka, Ninotsminda, Akhalkalaki regions and Batumi were selected to implement the project.
The working group from Tbilisi was received by Rev. Father Maghakia Amiryan, Prelate of Samtskhe-Javakheti and Tsalka's General Prelacy of the Armenian Diocese in Georgia. The group also visited ''Rafael Javakh'' Educational, Cultural and Youth Center in Ninotsminda, had a meeting with Pastor of Ninotsminda Rev. Father Armash Poghosyan, as well as was hosted in one of the families of Ghzrkilisa village in Tsalka region.
Based on the video shot during the meetings, a film will be made at the conclusion of the project, the heroes of which will be Armenian students from Javakheti and Batumi, and they will present the challenges they faced and progress they have made during the years when they were students.
The implementation of the project continues.