The New Year fairytale of the Armenian Diocese in Georgia at "St. Movses of Khoren" Preschool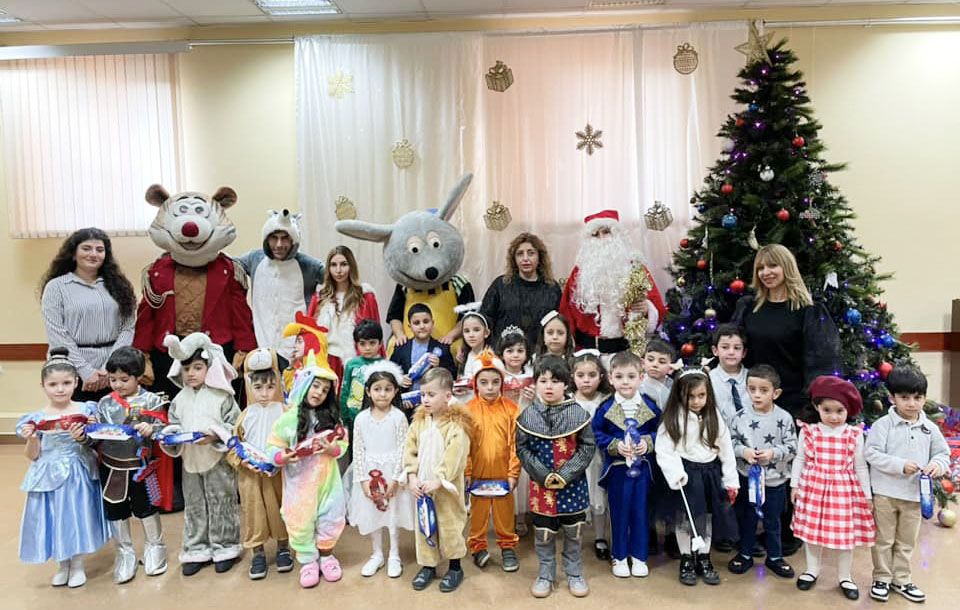 On December 21, 2022, the "Hayartun" Center of the Armenian Diocese in Georgia (Director: Eugenia Markosyan) was full of New Year's activity. The students of Diocesan "St. Movses of Khoren" ("Surb Movses Khorenatsi") Preschool were prepared to say goodbye to the past year and welcome the upcoming New Year together with fairytale heroes.
And the fairytale heroes were presented by the professional actors of the Petros Adamyan Tbilisi State Armenian Drama Theatre. They were Santa Claus, Snow White, Tiger, Wolf, Mouse, and Hare.
The festively decorated hall was in harmony with the clothes and beauty of the students, for which their parents had put so much effort. The children represented Snow White, Red Riding Hood, Cinderella, King and Queen, Fox, Rooster, Elephant, Unicorn, Lion, Wolf, and Bear.
The little ones were waiting for the fairytale heroes. Their desire was great to present the New Year's poems and songs, games, and answers to riddles taught by preschool teachers Aida Bazoyan and Tatevik Sahakyan, and definitely to be praised.
And then Santa Claus came with his companions and the celebration began. Children's recitations accompanied by music, cheerful games, and group songs created a special mood in the hall.
The festive mood ended with the wish "Welcome New Year". Of course, Santa Claus did not come empty-handed; he brought gifts for everyone that were prepared by the "Armenia" store (director: Eduard Muradyan). The New Year's party of the preschool ended in a happy mood, taking pictures with the fairytale heroes and receiving beautiful gifts.
The Head of the "Hayartun" Center of the Armenian Diocese in Georgia Eugenia Markosyan expressed her gratitude to the actors from Petros Adamyan Theatre and the Artistic Director of the Theatre for organizing a New Year party for preschool students.