A cross-stone (Khachkar) dedicated to the friendship of the Armenian and Georgian nations opened in Tbilisi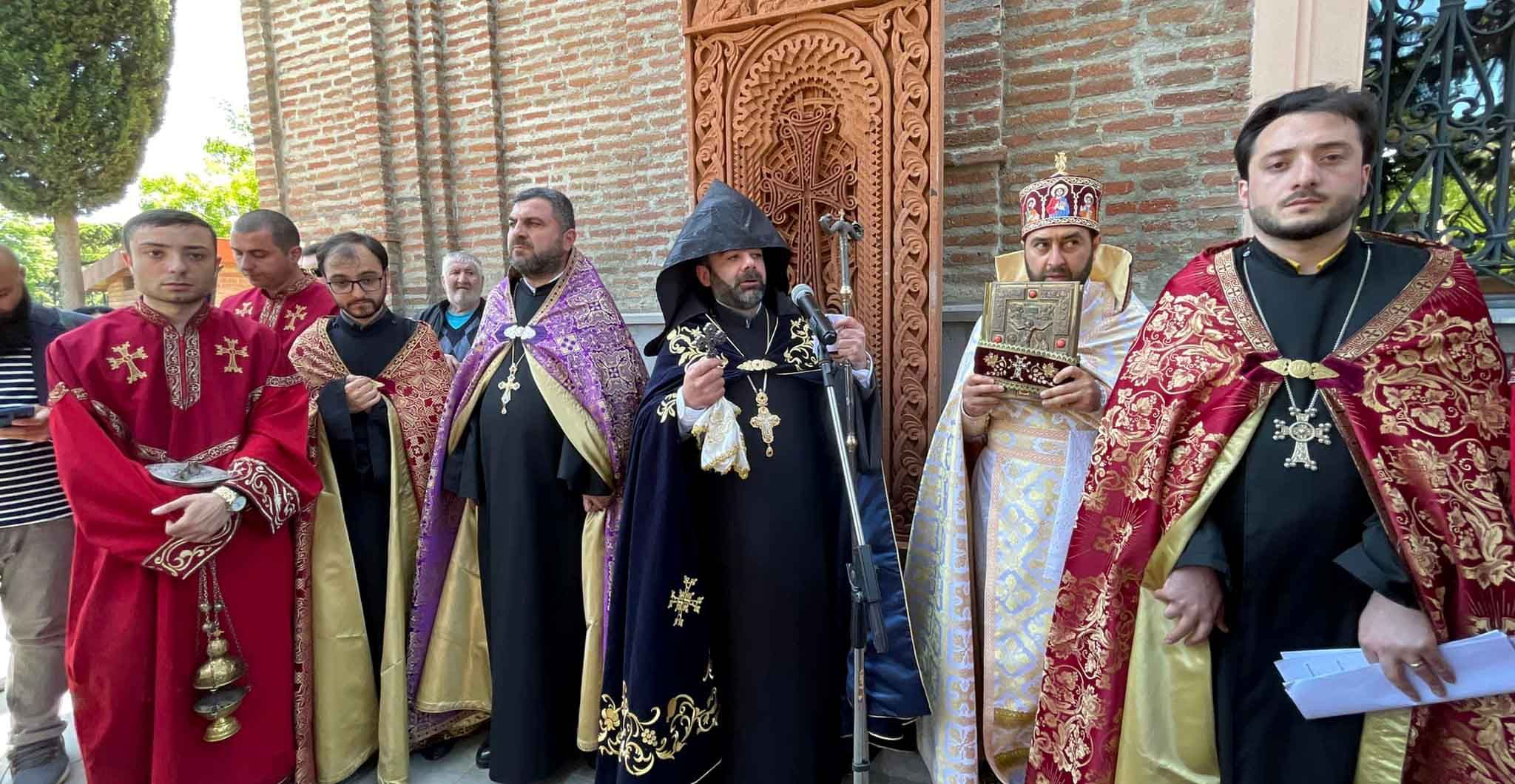 The friendship of Armenian and Georgian nations started from the ancient period, passed through many hardships and came to us with the expectation that it would remain strong and unshakable also in the future. The people of the two nations, remaining devoted to centuries-old friendship, convey it to the future generations encouraging them to maintain and preserve the good neighborly relations of the Christian nations.
On May 15, 2022, under the presidency of the Primate of the Armenian Diocese in Georgia, Rev. Father Archimandrite Kirakos Davtyan, newly ordained Rev. Father Ghevond Tarzyan celebrated Divine Liturgy at Saint Etchmiadzin church in Tbilisi. At the conclusion of the Divine Liturgy, consecration ceremony of the cross-stone (khachkar) dedicated to the centuries-old friendship of the Armenian and Georgian people was offered in the churchyard.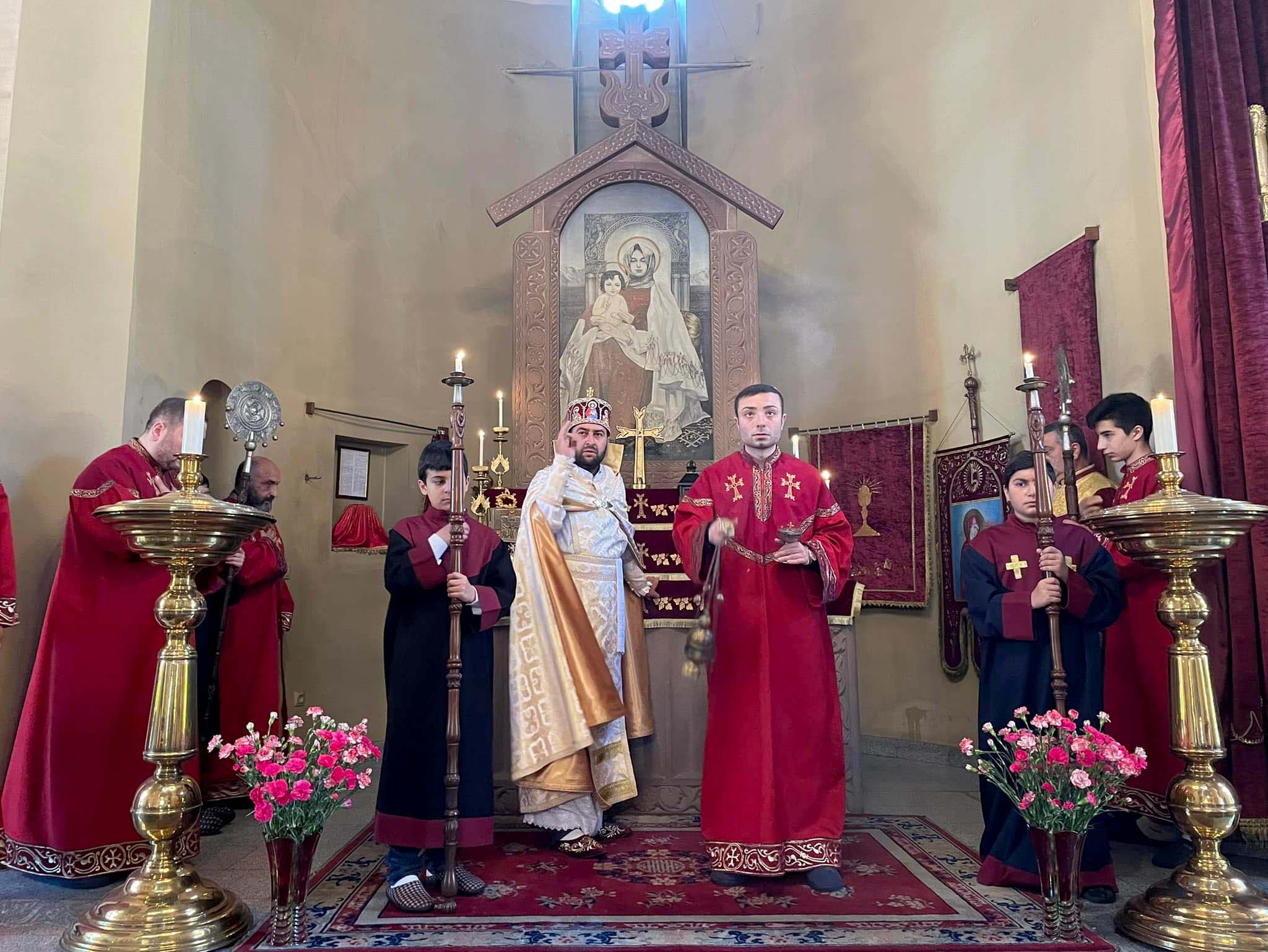 Armenians from Tbilisi came to participate in the ceremony, which was close to their hearts because the cross-stone was dedicated to the maintenance of Armenians and Georgians living side by side, supporting each other and collaborating.
The Mkhitaryan family from Tbilisi living in Tbilisi for decades, at the initiative of brothers Levon and Gourgen, a beautiful cross-stone was erected in the courtyard of Saint Etchmiadzin church. It became the family's contribution to the strengthening of the friendship between the two nations, highlighting the mystery of the cross stone as a meaningful symbol of the spread of Christianity.
The consecration service of the cross stone was offered by the Primate of the Armenian Diocese in Georgia, Rev. Father Archimandrite Kirakos Davtyan and with the participation of clergy and deacons.
Highly appreciating the Mkhitaryan's family initiative, the Diocesan Primate wished those present to remain faithful and steadfast in Christian faith, to maintain the friendship of the two people strong.
Ishkhan Mkitaryan, the father of the family lowered the sheet from the cross stone, praying to Almighty God that the friendship between Armenian and Georgian peoples would never be broken and that only doves of peace would soar everywhere in the sky.
The event of the consecration of the cross stone was honored with the presence of Members of Tbilisi Sakrebulo (City Assembly) Otar Grigolian, Kakha Labutchidze and Vladimir Bozhadze. Diplomats from the RA Embassy in Georgia Anna Sahakyan, Davit Janazyan, and Avetik Harutyunyan attended the festive event.
Member of Tbilisi Sakrebulo Kakha Labutchidze touched upon the closeness of the Armenian and Georgian peoples, recalling the events of April 1989, when the Armenian Apostolic Holy Church erected a cross stone in memory of those who died for Georgian independence in the same Avlabar district. And he highlighted that the cross stone placed in the churchyard today is the symbol of irreversibility of brotherhood and friendship.
At the conclusion of the ceremony, a Matagh (Thanksgiving Animal Sacrifice) was distributed to the faithful at the initiative of the Mkhitaryan family.