Ananov Family's devotion to Tumanyan's 150th anniversary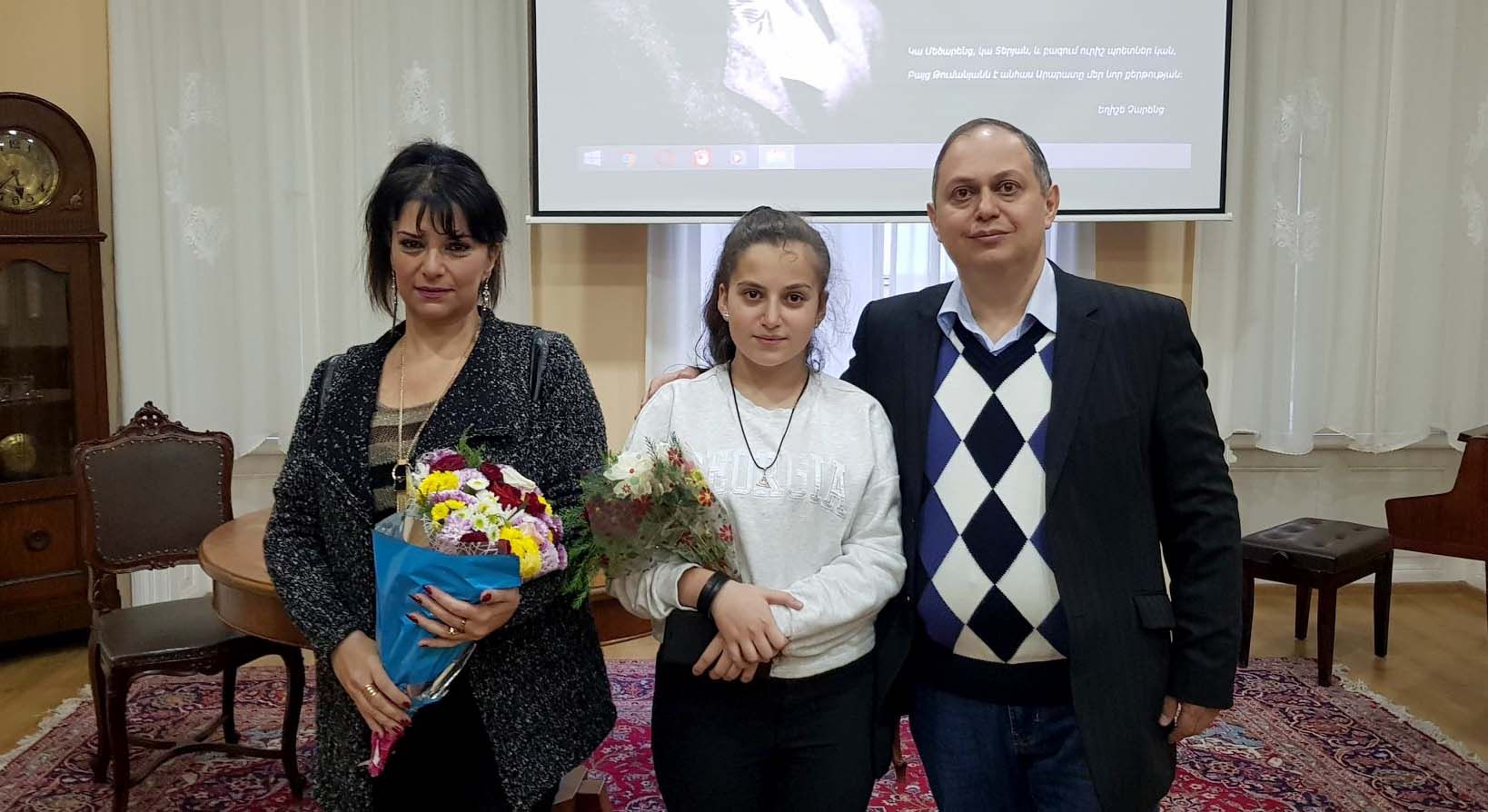 Events dedicated to the great Armenian poet's 150th anniversary continue at the "House of Hovhannes Tumanyan" Center for Science and Culture. On November 3, 2019, representatives of foreign intellectuals and admirers of Tumanyan's works gathered in Tumanyan's house's lounge. The event was unique. It was initiated by Ananov family – famous poet and translator Michael Ananov, his wife and daughter who lives in Tbilisi.
The excursion guide of the "House of Hovhannes Tumanyan" Center for Science and Culture Gohar Mazmanyan gave opening remarks and emphasized that the devotion and expressing of respect to Hovhannes Tumanyan takes place at his own apartment where 100 years later literary evenings, salon meetings hosting of friends takes place. Indeed, the event was interesting, full of speeches, recitation, theatrical episodes, and music.
During the evening, with the participation of the father of the family Michael and his daughter Anna the complicated path of All-Armenian Poet's life and activity were presented in Armenian and Russian languages. They presented poet's life full of hardships, family tragedies, national pain, but full of patriotism, love for Motherland, devotion to peoples' friendship, and open-heartedness as well.
Michael Ananov's spouse Greta recited in Armenian and the sample of Paruyr Sevak's works translated by him into Russian were read, videos were screened, poems were recited, Valery Bryusov's speech about Tumanyan and Armenia was presented and the attendees watched a performance of the meeting of two great, genius poets - Hovhannes Tumanyan and Sergei Yesenin.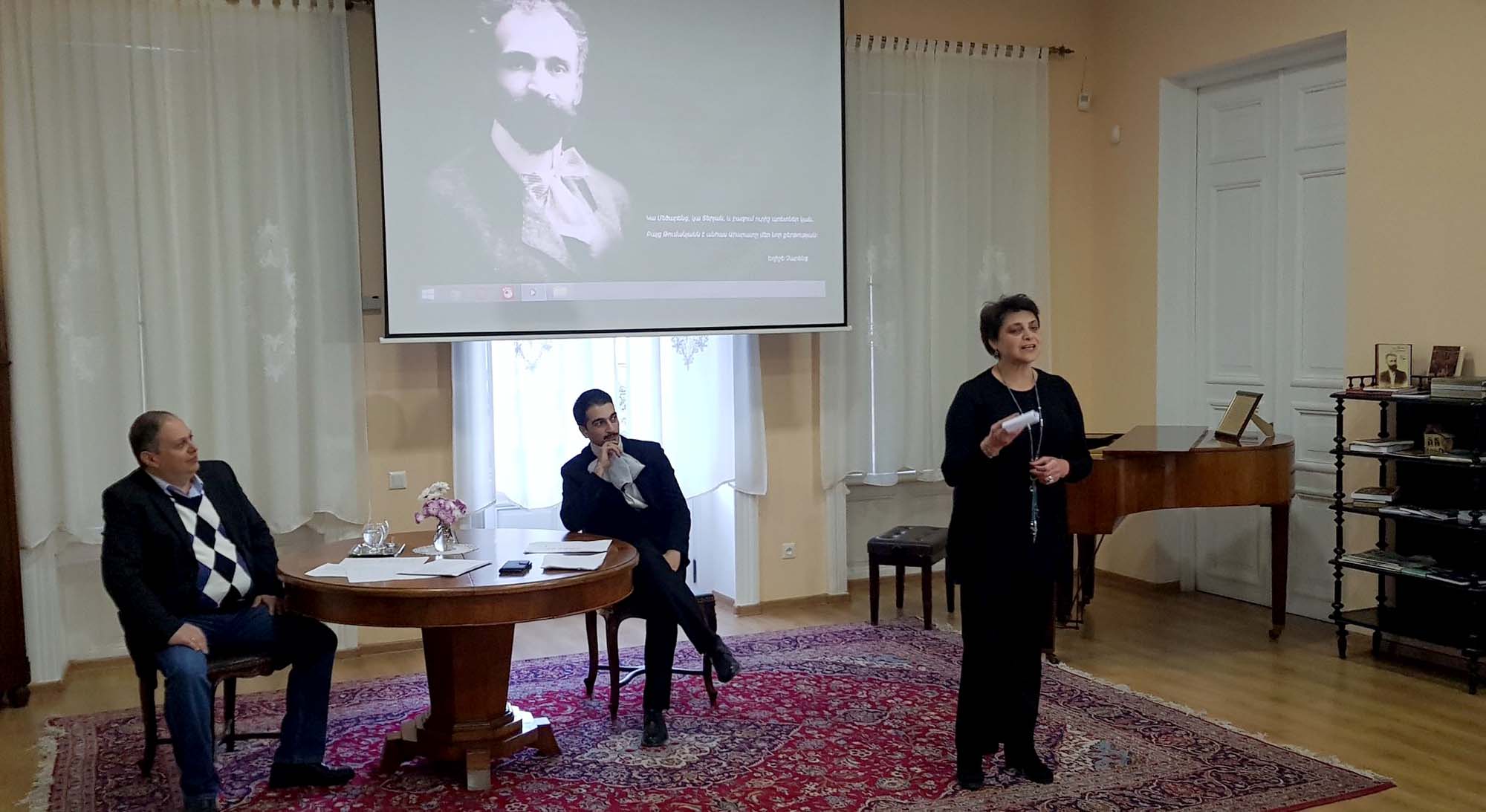 Spiritual Pastor of the "House of Hovhannes Tumanyan" Center for Science and Culture Rev. Father Kirakos Simonyan and the Spiritual Superintendant of the "Hayartun" Center Rev. Father Tatev Marukyan expressed their appreciation. In their speeches they appreciated the great love and devotion of Michael Ananov and his family to Armenian literature and attached importance to the presentation of the All-Armenian Poet in a new way, making the event meaningful which was truly impressive.
The guests expressed their opinions on the high level and beauty of the event, shared their impressions. Tumanyan's granddaughter Alyona Kolessnikova, Chairman of the "Armenian community in Tbilisi" organization Michael Tadevosov, Professor Alexander Piradov, director of the Young Spectator's Theatre Anatoli Lobov, journalist Susanna Khachatryan were among the guests. A suggestion was made to present the event to the other people as well, including the multinational and multicultural population of Tbilisi. It will become a testimony of the fact that the devotee of peoples' friendship, who was an Armenian, also lived and created in Tbilisi city which is a joint center of various peoples and religions.
Khatuna Poghosova-Paniashvili, Inna Davitashvili and Aram Arutyunov made the evening more beautiful.
The event was an expression of devotion by the Ananov Family to the glorious 150th anniversary of Hovhannes Tumanyan.