Holy Thursday in Armenian churches of Tbilisi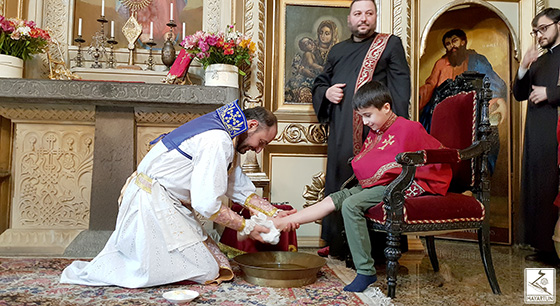 On April 18, 2019, Holy Thursday, the Armenian Apostolic Holy Church commemorated the Last Supper of Our Lord Jesus Christ, and the establishment of the sacrament of Holy Communion. Early in the morning, the Karg Apashkaroghats (Service for those who are fasting) was offered in the St. Etchmiadzin church in Tbilisi, the Armenian Diocese in Georgia.
Under the presidency of the Primate of the Armenian Diocese in Georgia, His Grace Bishop Vazgen Mirzakhanyan, Rev. Father Zaven Yazichyan, who was appointed to serve in Kvemo-Kartli region of the Armenian Diocese in Georgia, celebrated his firs Divine Liturgy.
During the Divine Liturgy, the speech of Basil of Caesarea on Establishment of the Sacrament of Holy Communion was read.
On the same day, under the presidency of the Diocesan Primate, the Service of Washing of the Feet was offered in the Cathedral of Saint George. The holy readings of the day and the "About the Love" speech of John Pluz of Yerznka were read.
Afterwards, the oil and water at the Holy Altar were blessed after which Rev. Father Zaven washed and anointed with blessed oil, the feet of twelve persons symbolizing the Apostles.
In the evening, the Passion Service was held in churches.