Exhibition - Creative art studio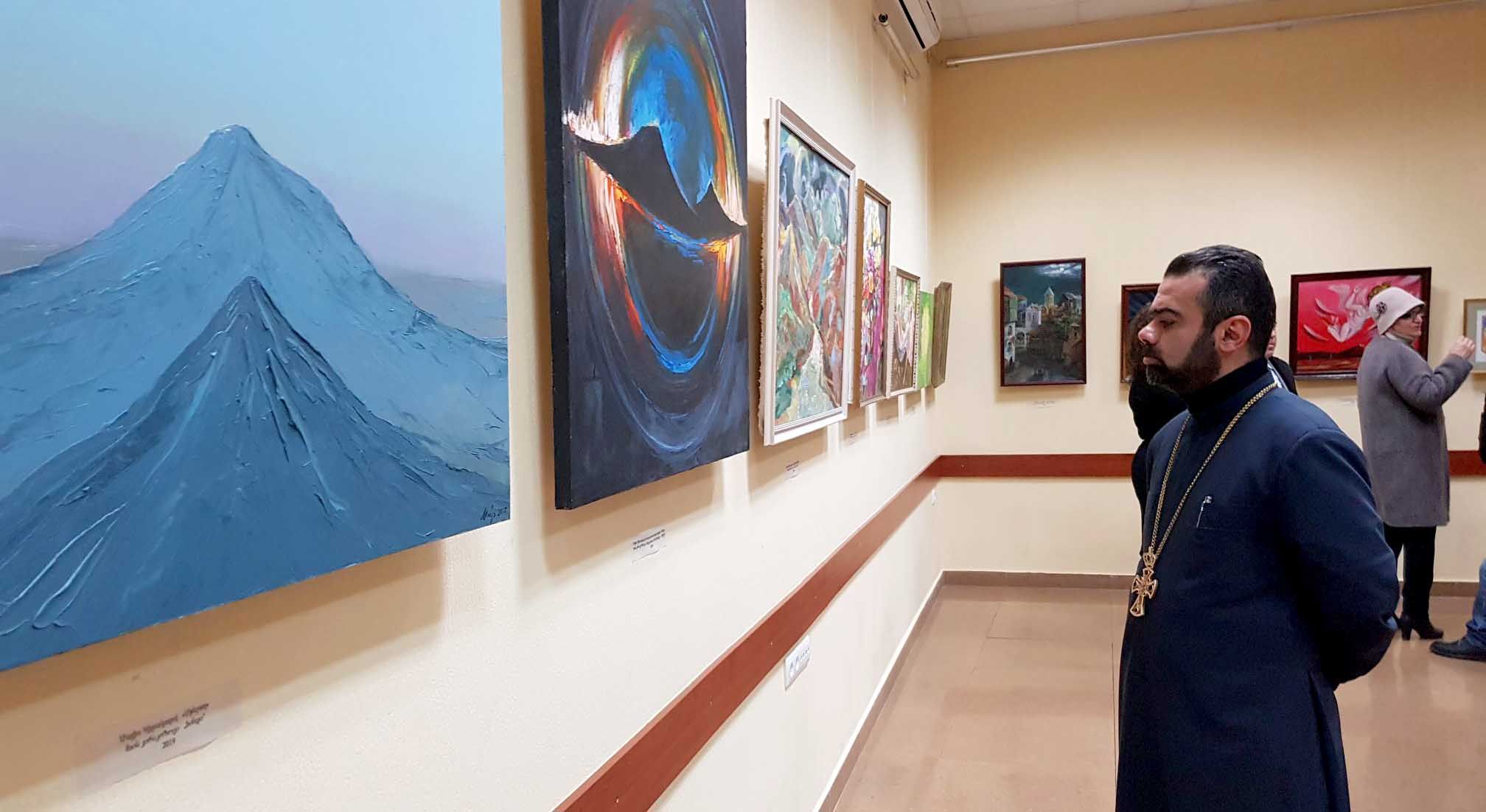 On November 22, 2019, Calouste Gulbenkian hall of the ''Hayartun'' Center (Armenian Diocese in Georgia) was turned into a creative studio of Armenian painters in Georgia. The walls of the hall were decorated with canvases expressing various topics. The works were different: still life, landscape, portrait – spatial, imaginative, realistic and abstract, and all of them were unique, interesting, created with a wide flow of though.
The title of the exhibition was symbolic: ''Creative art studio''. The free spirit of artists was not limited by any nominated topic, and the masters of painting had an opportunity to exhibit their beloved works.
In attendance were independent Member of Parliament of Georgia David Tchitchinadze, advisor of the Vicar of the Armenian Diocese in Georgia Armen Gevorgyan who lives in Batumi, as well as artists, public figures, and members of the Armenian community in Tbilisi.
The event was honored with the presence of the Vicar of the Armenian Diocese in Georgia, Rev. Father Archimandrite Kirakos Davtyan. The head of the ''Hayartun'' Center Eugenia Markosyan gave opening remarks and then gave the floor to famous miniature artist Meruzhan Shahumyan.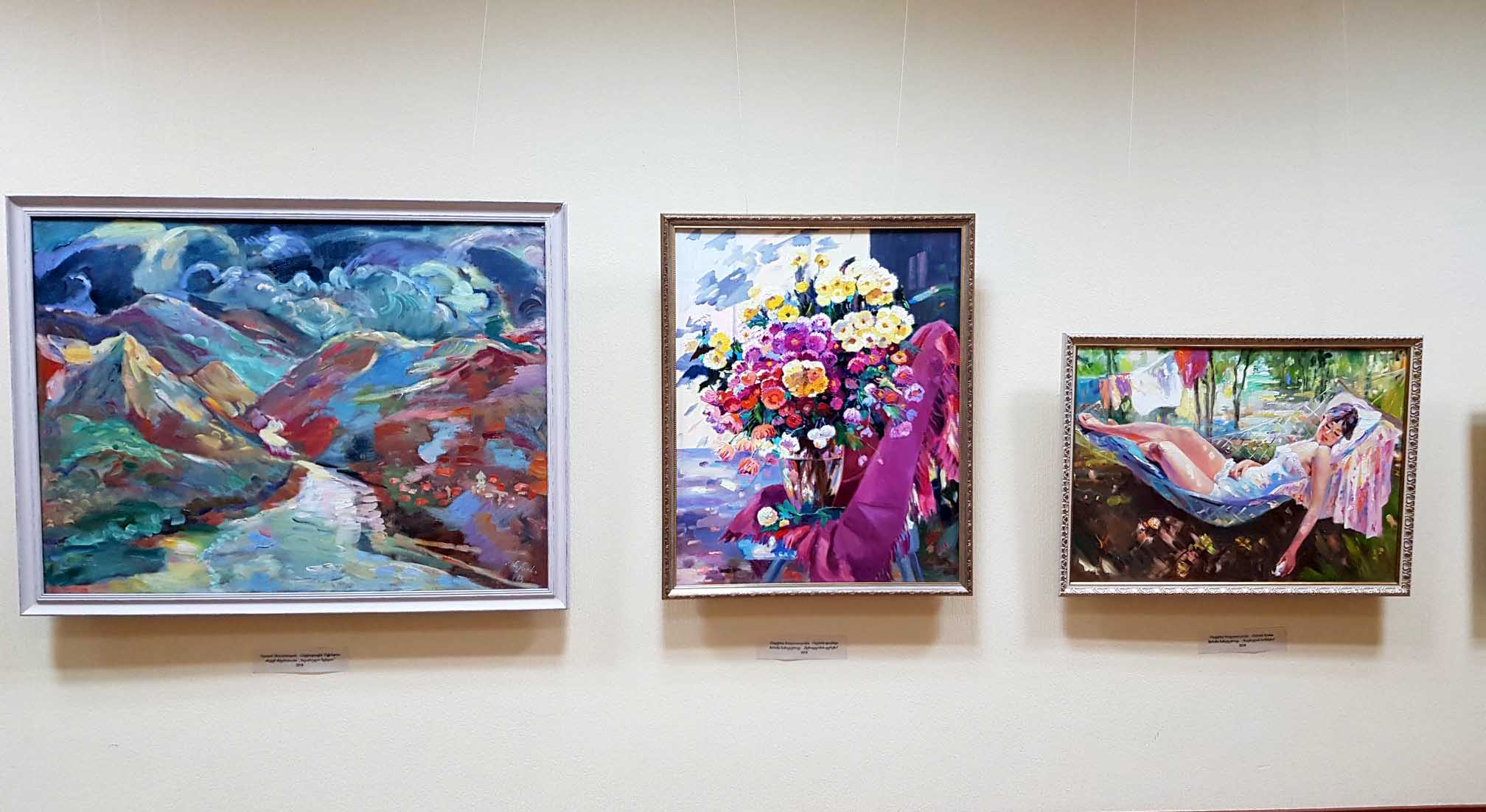 The latter touched upon the values of painting art, thanked the organizers for presenting to the public the works of Armenian painters of Georgia. The popular miniature artist expressed his gratitude to MP David Tchitchinadze with whose sponsorship the bronze statue of All-Armenian poet is gloriously sitting on the balcony. This statue is a gift on the occasion of Tumanyan's 150th anniversary. As an expression of gratitude, Meruzhn Shahumyan gave a beautiful hand-made souvenir to the MP.
Meruzhn Shahumyan proposed to organize an exhibition of works of Tbilisi artists during which paintings of Tbilisi artists will be exhibiting.
The Vicar of the Armenian Diocese in Georgia, Rev. Father Archimandrite Kirakos Davtyan concluded the event and offered his blessings to attendees. Rev. Father appreciated work done by organizers and participants of the exhibition, as well as Armenian artists whose paintings adorn the galleries of various cities, mentioned the contribution of Armenian artists in development of Georgian art.
The exhibition was initiated and organized by the ''Hayartun'' Center of the Armenian Diocese in Georgia with the support of the Diocesan Headquarters and with the cooperation with Union of Armenian Painters in Georgia. 17 Armenian painters who live in Georgia participated in the exhibition, Gari Nalbandyan from Rustavi, Hamlet Aroyan from Javakheti, Meruzhan Shahumyan, Gohar Hakobyan, Tengiz Mikoyants, Iren Ohanjanova, Valiko Arakelyan, Marina Khachaturova and artists from Tbilisi were among them. 29 best paintings were exhibited. The exhibition continues.