"House of Hovhannes Tumanyan" Center of the Armenian Diocese in Georgia was awarded by "Women's Council" of Georgia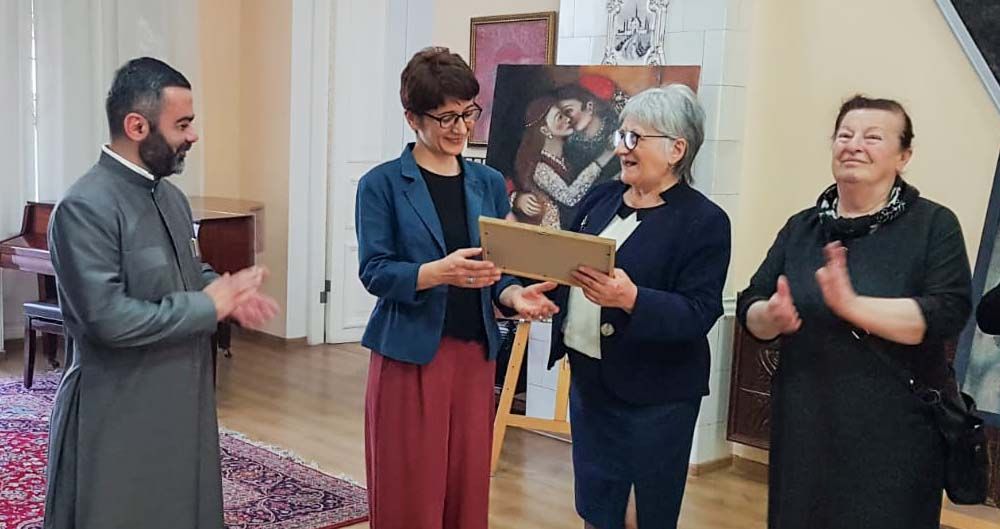 On May 28, 2022, the delegation of the Women's Council non-governmental organization of Georgia, under the leadership of Ketevan Gabruashvili visited "House of Hovhannes Tumanyan" Center for Science, Education and Culture. The purpose of the visit within the framework of Museum Week announced by the Tbilisi Municipality, was to give a certificate of merit to poet Hovhannes Tumanyan's apartment by the "Women's Council", which has centuries-old history. The poet's apartment in Tbilisi is currently operating as a house-museum
The meeting was honored with the presence of the Primate of the Armenian Diocese in Georgia, Rev. Father Kirakos Archimandrite Davtyan. Ms. Gabruashvili touched upon activities of "Women's Council", highlighting the importance of activities aimed at the development of culture, deepening of friendship and spread of charity, which are implemented in multinational Georgia in order to develop the cultural life, customs and tradition of different peoples and to pass them to generations. Ms. Gabruashvili gave the certificate of merit to Gisane Hovsepyan, head of the Center.
The Diocesan Primate offered his blessings to those present, highly appreciated the attention towards the "House of Hovhannes Tumanyan" Center, attached importance to the events carried out in this house by the creative community and readers in this house, and expressed hope that such activities will continue to develop and deepen.
The guests toured Hovhannes Tumanyan's historical house.