Opening of a cross-stone (khachkar) dedicated to fathers and mothers in Saint George church in Tbilisi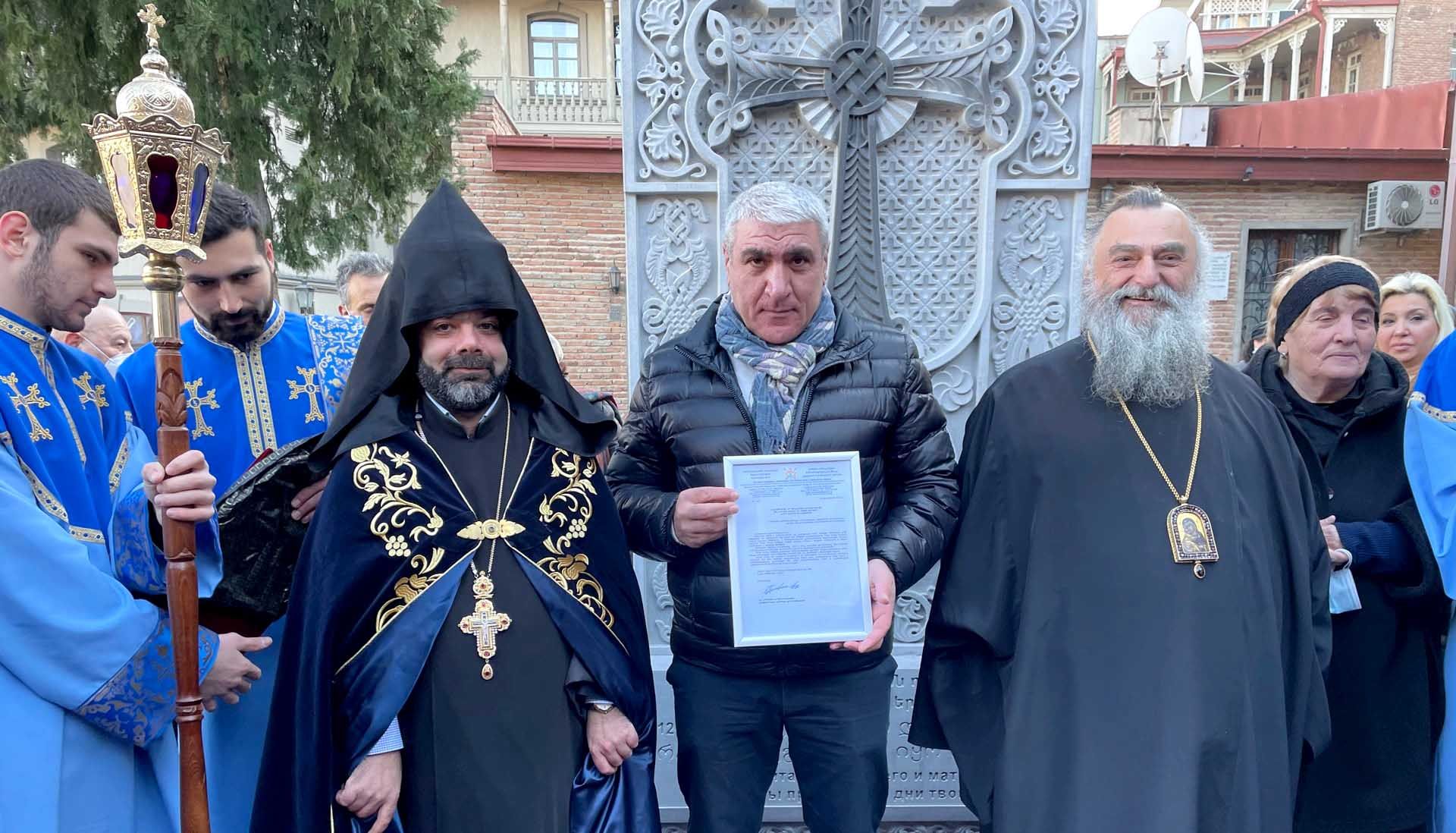 On December 26, 2021, in the Cathedral of Saint George in Tbilisi, under the presidency of the Primate of the Armenian Diocese in Georgia Rev. Father Archimandrite Kirakos Davtyan, celebrant Rev. Father Virap Ghazaryan offered the Sunday Divine Liturgy at the end of the year.
The festive day also became historic. At the conclusion of the Divine Liturgy, the solemn ceremony of consecration of the cross-stone (in Armenian: kachkar; khach – cross, kar - stone) dedicated to the memory of fathers and mothers took place in the yard of the 13th century building of the Cathedral of Saint George of the Armenian Diocese in Georgia. The first cross-stone carved with ornaments on both sides, which rise in the courtyard of the ancient church giving a unique mystery to the surroundings.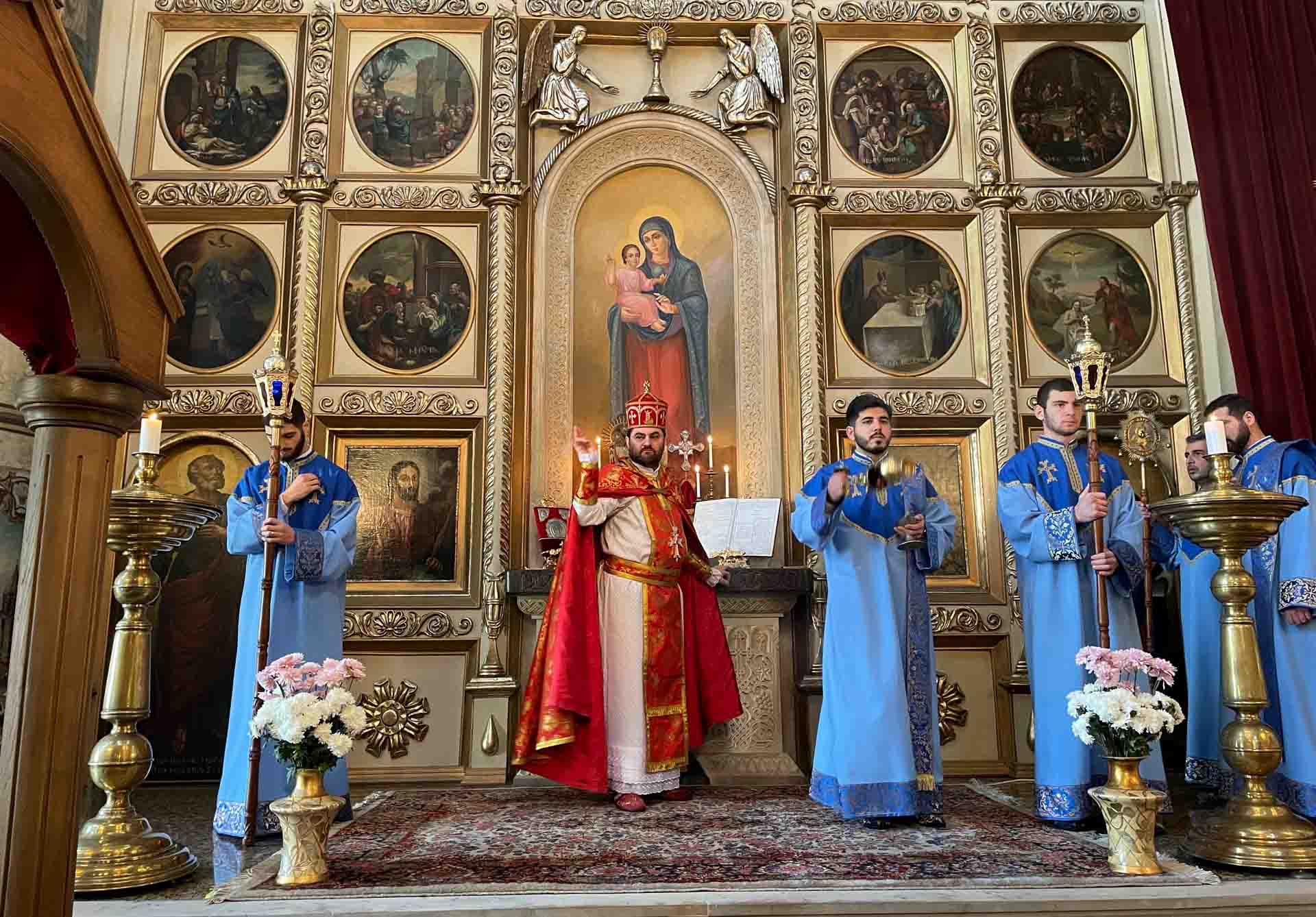 The solemn opening ceremony was attended by Nikoloz Pachuashvili, the Metropolitan of Gumbordo, Akhalkalaki and Kars of Georgian Orthodox Church; Kakhaber Labuchidze, the majoritarian MP of Tbilisi Sakrebulo (City Assembly), Nika Eliasashvili, the Chairman of the Isani Regional Administration in Tbilisi.
The cross–stone installation was initiated by the Khachaturyan family who lives in Tbilisi. The meaning of the cross – stone is the reverence of children to their parents, their mothers and fathers. The cross–stone consecration ceremony was attended by benefactor Armen Khachaturyan with his family and relatives.
After the Requiem Service, with the participation of clergy and deacons, the Primate of the Armenian Diocese in Georgia Rev. Father Archimandrite Kirakos Davtyan offered Consecration Service with Holy Muron (Chrism).
Rev. Father Archimandrite Kirakos Davtyan congratulated the attendees on the occasion of the opening of the newly consecrated cross–stone, touched upon the meaning of the cross–stone and expressed his appreciation to the benefactor for his church-devoted activities. The Diocesan Primate offered his blessings to Armen Khachaturyan and handed over him a letter of appreciation.
In his congratulatory speech, Metropolitan of Georgian Orthodox Church Nikoloz Pachuashvili highlighted the importance of the unity of the two Christian Churches with Our Lord Jesus Christ. He gave a present to the Cathedral of Saint George - a picture of Jesus Christ as a symbol of the unity of the Armenian Apostolic and Georgia Orthodox Churches united with the light of Christ.
The pedestal of the cross–stone was decorated with flowers and a hospitality took place with Matagh (Thanksgiving Animal Sacrifice) and cake imitated by benefactor Khachaturyan family.