Pilgrimage to Motherland – Holy Etchmiadzin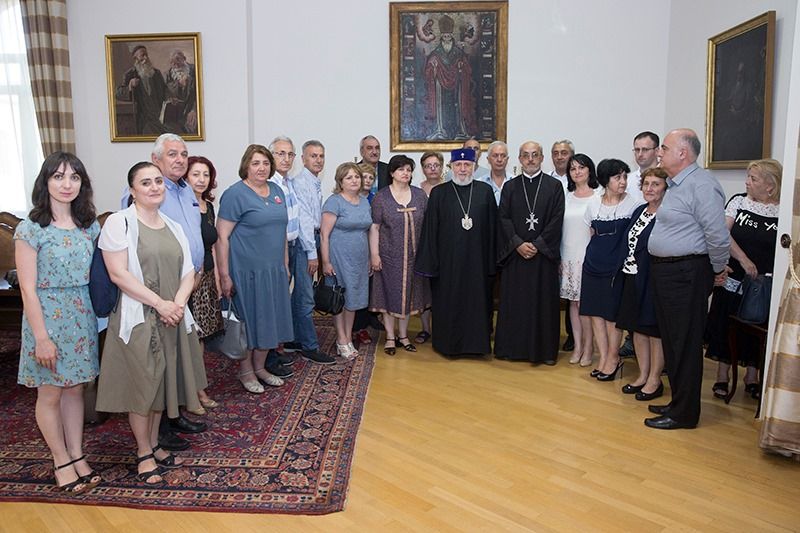 On June 13, 2019, the faithful of the Armenian Diocese in Georgia, intellectuals, Diocesan officials visited Motherland, accompanied by Rev. Father Husik Harutyunyan, the Spiritual Superintendant of the Cathedral of Saint George. The visit was organized within the framework of the jubilee events dedicated to the 150th anniversary of Hovhannes Tumanyan and Komitas Vardapet.
The program developed by the community committee of the Armenian Diocese in Georgia which coordinates jubilee events was a part of the pilgrimage. The pilgrims visited the Mother See of Holy Etchmiadzin where they visited Ruben Sevak Museum and Alex and Marie Manoogian Treasury House, then had a meeting with His Holiness Karekin II, Supreme Patriarch and Catholicos of All Armenians. The purpose of the pilgrimage was to see holinesses of Etchmiadzin and receive paternal blessings of the Catholicos of All Armenians, to visit great Komiats Vardapet's tomb and museum.
The guests presented to His Holiness the works done within the framework of jubilee events and future planned activity. The pilgrims spoke about issues of Georgian-Armenians' concern related to the maintenance of the historical and cultural heritage and their return to the Diocese, teaching of Armenian studies in educational and cultural centers of the Armenian Diocese and schools, as well as issues of preservation of Armenian identity.
The pilgrims expressed their deep gratitude to His Holiness for appointing His Grace Bishop Vazgen Mirzakhanyan to serve as the Primate of the Armenian Diocese in Georgia, in the fall of 2002, mentioned that the latter with his devoted and fruitful activity had his great contribution in the Armenian Diocese in Georgia during his seventeen years of service.
Karekin II Supreme Patriarch encouraged the visit of the pilgrims with his warmest and touching words. He attached importance to the maintenance and strengthening of the Armenian-Georgian friendship, highly appreciated the activity of the Diocesan Primate, clergy and Diocesan officials, expressed hope that the issues of concern of the Diocese will have a positive solution and asked the Armenians from Georgia to convey his fatherly love and blessings of the Mother See of Holy Etchmiadzin.
Then the pilgrims lit candles and visited Komitas Museum-Institute, laid flowers and prayed in front of the great Komitas tomb.
In the evening the pilgrims returned to Tbilisi.