The Feast of the Glorious Resurrection of Our Lord Jesus Christ was celebrated in two villages of Marneuli region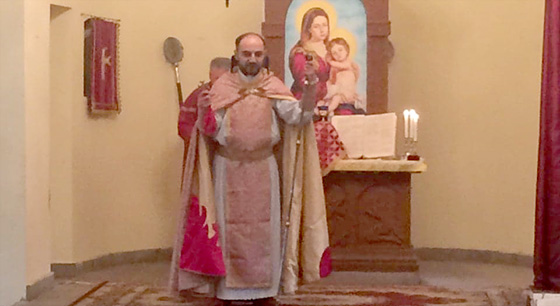 On April 21, 2019, glad tidings of Jesus Christ's Resurrection spread in the Armenian Diocese of Georgia in Marneuli region. Rev. Father Zaven Yazichyan who was appointed to serve in Armenian communities of Kvemo Kartli region celebrated festive Divine Liturgy at the Surb Astvatsatsin (Holy Mother of God) church in Shahumyan.
During the Divine Liturgy, Rev. Father touched upon the mystery of the Holy Resurrection as the triumph of good over the evil and light over darkness. He conveyed the paternal blessings and congratulations of the Primate of the Armenian Diocese in Georgia, His Grace Bishop Vazgen Mirzakhanyan.
On the same day, Rev. Father Zaven Yazichyan offered Evening Service in the Srbots Avetaranchats Chapel (Chapel of Holy Evangelists) in Karmir (Red) village.
After the church rituals, Rev. Father had conversations with locals both in Shahumyan and Karmir villages.