The Report of the Primate of the Diocese of Armenian Apostolic Orthodox Holy Church in Georgia Rev. Father, Archimandrite Kirakos Davtyan at the 4th Conference on "Interreligious Dialogue for Peace" – "Religions on the way of Georgia's European integratio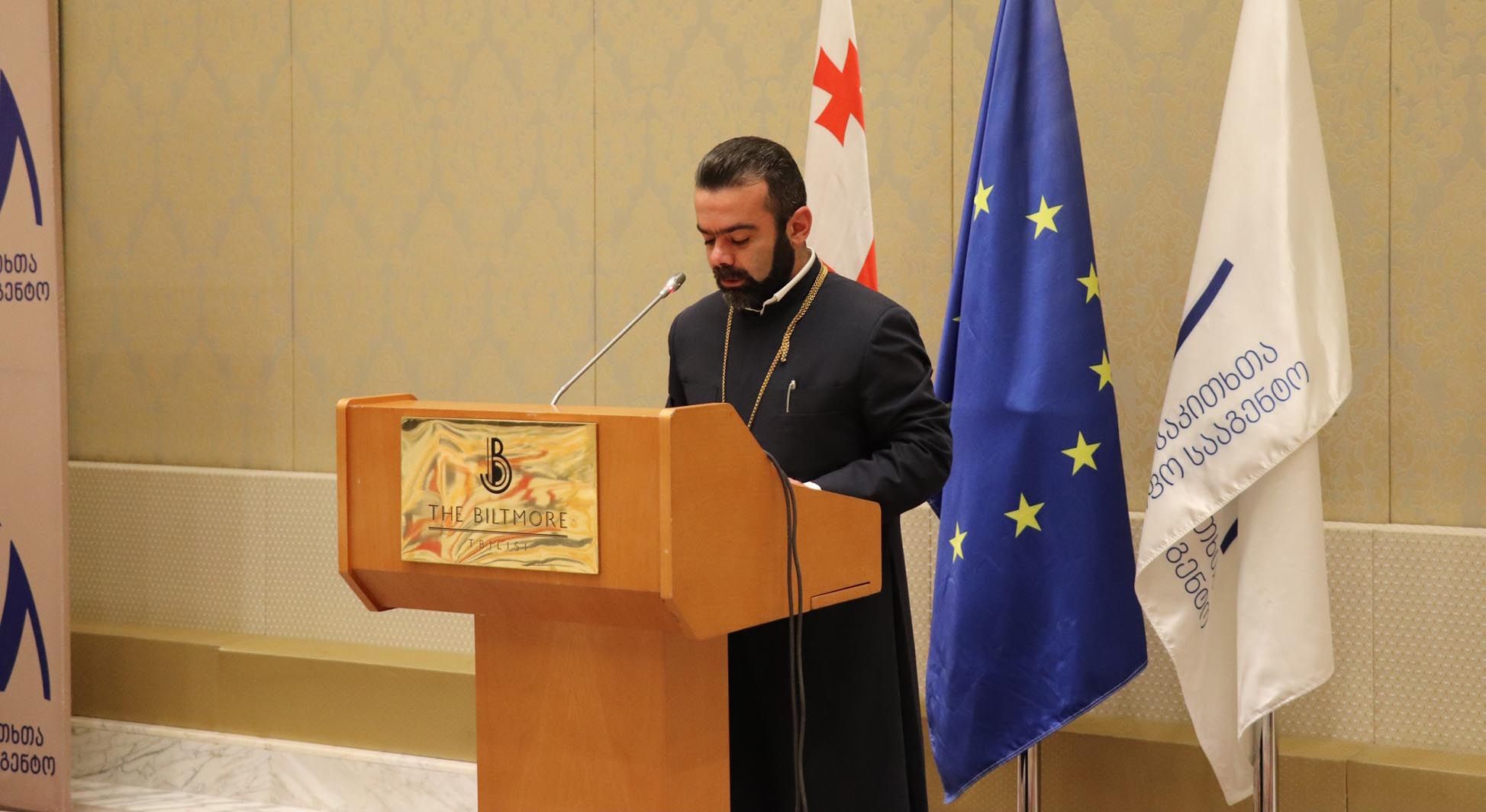 Dear Reverend Fathers, Beloved Spiritual Brothers in Christ
State and public figures,
Representatives of Diplomatic missions,
Sisters and Brothers,
Spiritual, religious, cultural unity is the pillar not only for religious denominations, but for all society. This is why it is necessary to ensure inter-religious and interfaith dialogue in order to feel free in discussing issues that concern all. Inter-religious and interfaith dialogue helps us to know each other, to respect the church or person's choice, not to insult religious feelings of a person or nation.
Publishing necessary literature, that will shed more light to the confession, history, feasts of a religious denomination, will help us in religious dialogue. From this point of view, the activity of State Agency for Religious Issues is very important. The Agency publishes calendars, reports presented at conferences, disseminates information about religious issues in other countries, as a good example and experience of others, could be useful for us here, in Georgia.
Public TV-Companies, as well as famous Information Agencies, could provide the inter-religious and interfaith dialogue and tolerance. Unfortunately, the importance of this issue is underestimated. For the general public persons of other religious denomination, living next to them, often remains unknown. Many people create their own opinion about them by gossips and prejudice, which are far from reality.
From time immemorial, Georgian kings and nobility have had close connections with Europe. As is well known, the journey of Sulkhan-Saba Orbeliani to Europe was aimed to strengthen the ties between the Georgian and European people. They went to Europe for trade or education; then they brought a lot of innovations in Georgia. The capital of Georgia, Tbilisi, is located in the Transcaucasia, as well as on the crossroads of Europe and Asia. Europe has always had a profound influence on its culture, architecture, attire. Many Armenian scientists and public figures continued their work in Georgia, after receiving the education in Europe. Teachers and graduates of the Nersisyan School of Tbilisi, continued their education in Europe, are the prominent example of it. You may find Khachatur Abovyan, Komitas Vardapet, Yervand Kochar, Alexander Khatisyan, Armenak Shakhmuradyan among them.
The position of the Georgian Orthodox Holy Church, which plays a historically special role in the peaceful coexistence of religious communities, is very important for Georgian society.
It is time to wake up, look at the reality of present day in a sober light and see what's happening around us in the world, where not only Christians but also the followers of true Islam are being persecuted. New challenges for our society, adhering to traditions in the globalized world, should unite us, despite religious differences. We must support family traditions, spiritual and moral traditions of nations; take care of raising a younger generation, so they could believe in high values, could build a fair and equal society and allow people live happily ever after.
This is also important to think about the restoration of historical justice, and to return churches and other religious temples, confiscated Soviet time, to legal owners.
No doubt, the Government of Georgia makes positive steps in that direction. For example, the establishment of State Agency for Religious Issues and its positive functions, partial compensations for damages caused during Soviet regime, mosques and synagogues returned to Islamic and Jewish community, the property and temples returned to the Georgian Orthodox Church.
We should cultivate love, unity, tolerance and respect for one another despite our religious, confessional, national or racial differences, as we are the children of one God.
May God bless you. May Him bring clear and kind feelings to our hearts, souls, minds and guide our steps in the way of peace.