Farewell event of the "Saint Moses of Khoren" Preschool students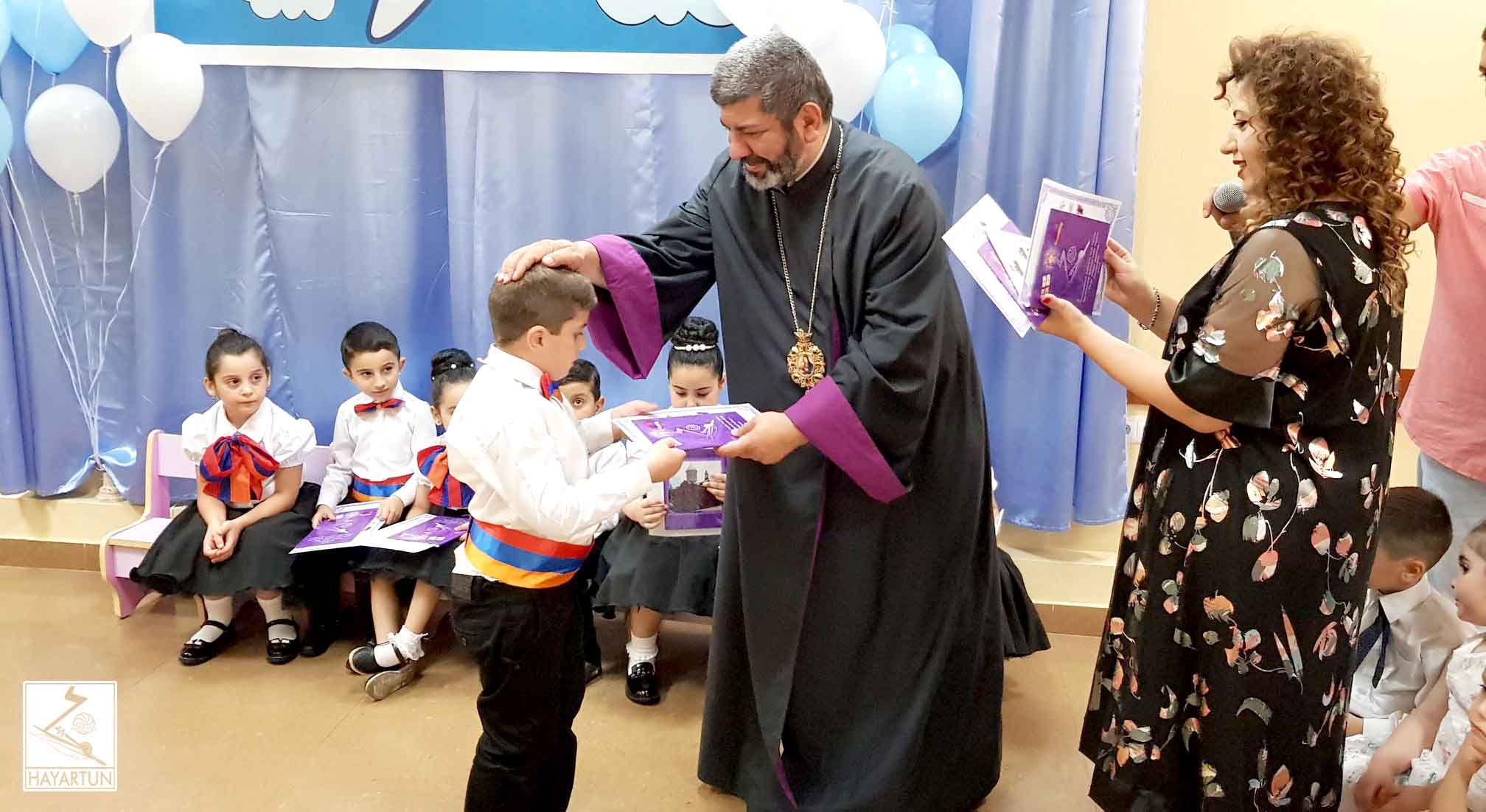 On June 27, 2019, Calouste Gulbenkian hall of the "Hayartun" Center (the Armenian Diocese in Georgia) turned into a blue airport where the 2018-2019 academic year graduates of the "Saint Moses of Khoren" ("Surb Movses Khorenatsi") Preschool (Educational Department
On June 27, 2019, Calouste Gulbenkian hall of the "Hayartun" Center (the Armenian Diocese in Georgia) turned into a blue airport where the 2018-2019 academic year graduates of the "Saint Moses of Khoren" ("Surb Movses Khorenatsi") Preschool (Educational Department of the Diocese) flied on the airplane of their dreams. The event was honored with the presence of the Primate of the Armenian Diocese in Georgia, His Grace Bishop Vazgen Mirzakhanyan. The parents and relatives were in the hall and the students of the senior group were proudly sitting beside their junior friends.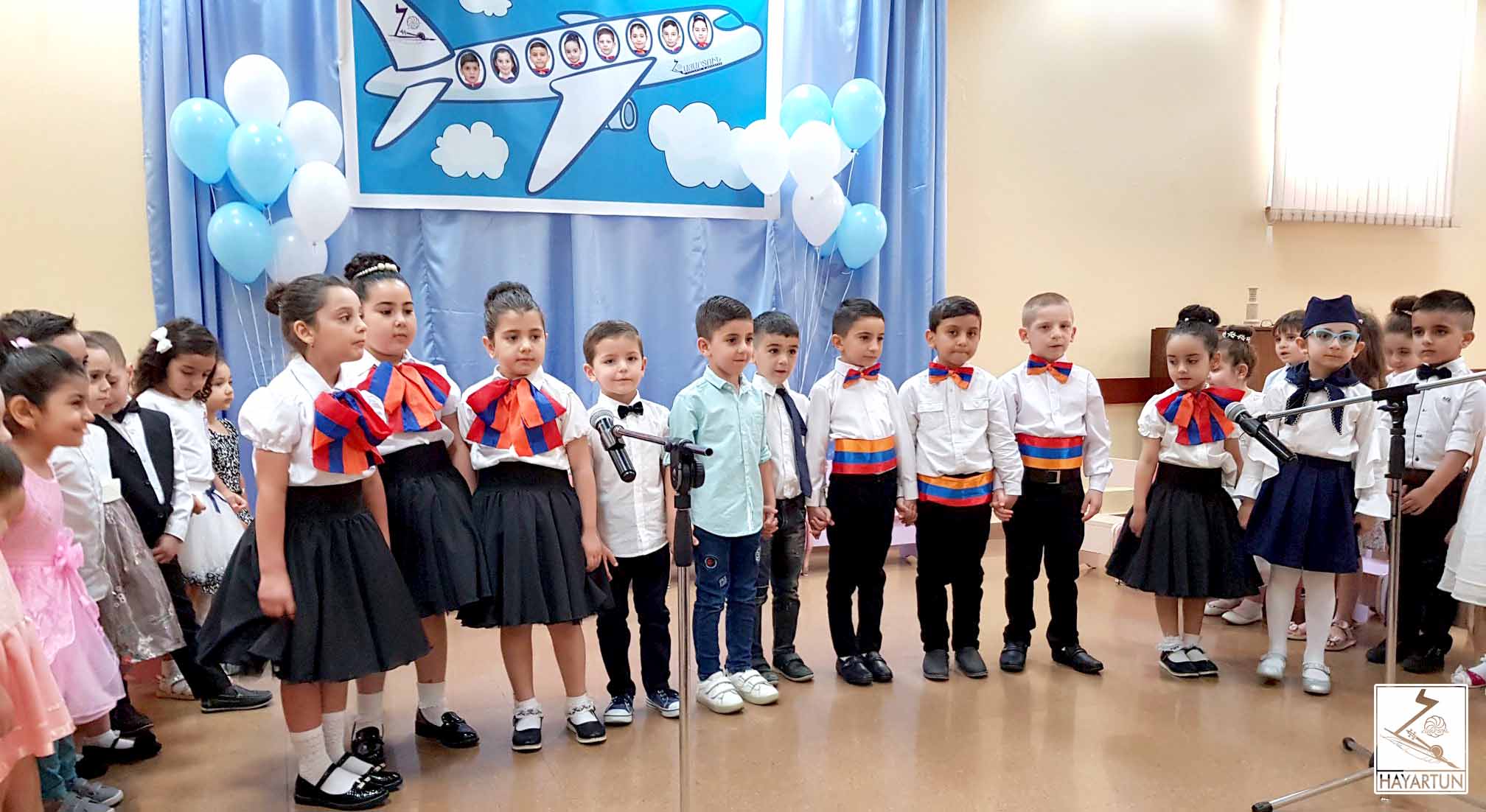 The Director of the Educational Department of the Diocese and the Head of the "Hayartun" Center Eugenia Markosyan gave opening remarks. She expressed her deep gratitude to His Grace Vazgen because due to his efforts the "Saint Moses of Khoren" Preschool was established, as well as for his permanent attention and support towards this preschool. She talked about the ten graduates and those seven graduates who are going to continue their education in Armenian language schools of the capital.
The future first graders presented what they have learned in the preschool with their beautiful speech, songs and dances, as well as "landed" with their airplane in the Motherland. All these were fulfilled due to the efforts of teachers Metaksya Ghazaryan, Lia Khitarishvili, former teacher Ani Zeynalyan, choreographer Suren Abramyan.
The Spiritual Pastor of the Saint Etchmiadzin church Rev. Father Samvel Torosyan and the Diocesan Spokesperson Susanna Khachatryan congratulated the students on the occasion of their entrance into new, more responsible period of childhood and wished them all the best.
Concluding the event, His Grace Bishop Vazgen Mirzakhanyan expressed his appreciation to the teachers for their devoted activity for the maintenance of national values, as well as parents who attach great importance to the Armenian education of their children and supported the activities of the preschool.
"Saint Moses of Khoren" Preschool already operates 8 years. The day of the students at the preschool starts with the Lord's Prayer, blessings of spiritual fathers, lessons and games. The children's education and upbringing at the preschool is accompanied by lessons of general abilities, Georgian, English, elementary arithmetic, artistic speech and spiritual information.
The preschool graduates received certificates and the blessings of His Grace Bishop Vazgen.