Historical event in Khojivank Pantheon of Tbilisi; reburial of relics took place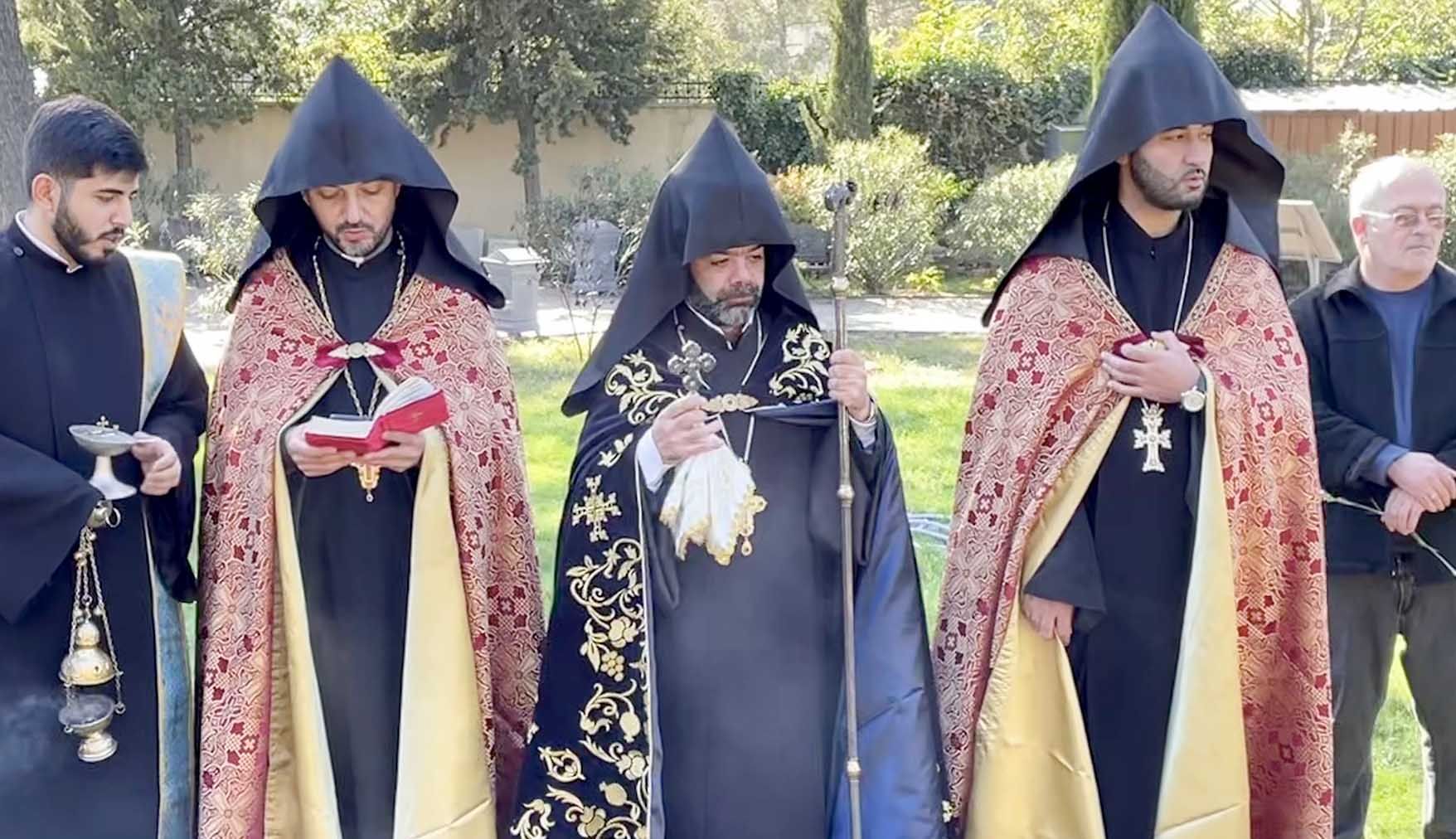 Indeed, October 30, 2022, was marked as the date of a historical event in the history of the Armenian Diocese in Georiga, especially in the lives of the Armenian community in Tbilisi. The reburial ceremony of the relics excavated in the territory of the former Vank (Monastery) temple or Harants Monastery in Tbilisi.
At the Cathedral of Saint George in Tbilisi, Rev. Father Shmavon Ghevondyan, the priest of the St. Hakob Church in Kanaker, RA, celebrated Divine Liturgy under the presidency of the Primate of the Armenian Diocese in Georgia Rev. Father Kirakos Davtyan and with the participation of Rev. Father Archimandrite Nshan Hmayakyan, General Prelate at Samtskhe-Javakheti and Tsalka's General Prelacy and Rev. Father Archimandrite Zaven Yazichyan, Pastor of Shahumyan, Karmir (Red), and Akhkyorpi villages of Kvemo Kartli region. At the conclusion of the Divine Liturgy, in front of the Holy Altar, boxes were placed. The boxes contained the relics excavated during the restoration works in the area adjacent to the Ministry of Culture of Georgia operating on Atoneli Street in Tbilisi.
Under the mournful music in the church and under the presidency of the Diocesan Primate, a Requiem Service was offered for the peace of the souls of the prominent sons of the nation. This ceremony became a tribute to the memory of those who were deceased, whose bodies were found under the ruins of the destroyed church and nearby cemetery during the years of the Soviet era.
In his message addressed to those present, Rev. Father Archimandrite Kirakos Davtyan spoke about those minimum efforts that the Armenian Diocese in Georgia can make today, by reburying the remains of the deceased in accordance with the Christian faith. Rev. Father expressed his gratitude to the Ministry of Culture, Sport and Youth and Deputy Prime Minister Mrs. Thea Tsulukiani, as a result of whose attentive and respectful attitude and support, the relics and tombstones of Armenians will find their permanent resting place in the Khojivank pantheon.
After the ritual, the relics gathered in the boxes, accompanied by a funeral procession, were moved to the Pantheon of the Armenian Writers and Public Figures.
Ambassador Extraordinary and Plenipotentiary of Armenia to Georgia Ashot Smbatyan, RA Embassy diplomats, representatives of Armenian intellectuals, and the Armenian community in Tbilisi joined the reburial procession in Khojivank.
With the participation of clergy and deacons, a Requiem Service was offered, after which the relics were lowered into the burial pit. Primate of the Armenian Diocese in Georgia Rev. Father Kirakos Davtyan delivered a speech. He highlighted the importance of the fact that the deceased, whose corpses had been lying under the layer of asphalt and concrete for decades, received the covering of the earth as relics. Rev. Father concluded his speech by asking Almighty God not to allow such infidelity and reburial ceremonies.
After the reburial, the tomb was decorated with flowers.