The best parts of "Anoush" poem were presented at the "House of Hovhannes Tumanyan" and "Hayartun" Centers of the Armenian Diocese in Georgia, Tbilisi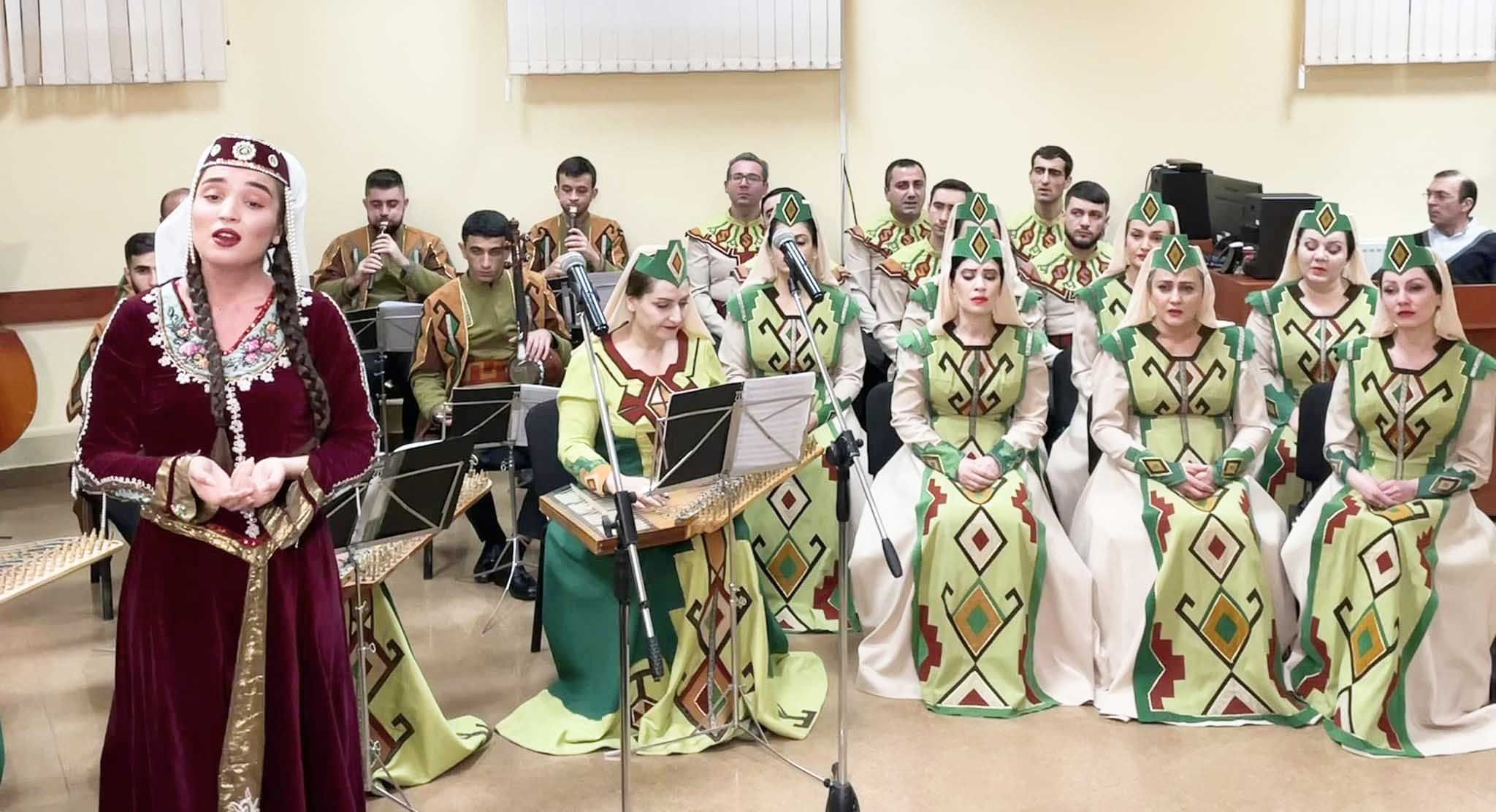 On December 2, 2022, Tatul Altunyan Song and Dance Ensemble was hosted in Tbilisi with a two-day tour initiated on the occasion of the Song and Dance Ensemble's 85th anniversary. The tour started from Hovhannes Tumanyan's apartment in Tbilisi.
The day was impressive and exciting. Armenian public of Tbilisi had the opportunity to enjoy one of the greatest works of Armenian literature which has its place in the world literature - Hovhannes Tumanyan's poem "Anoush" poem. The best parts of the poem elaborated by Komitasn was masterfully presented by the distinguished ensemble from the motherland.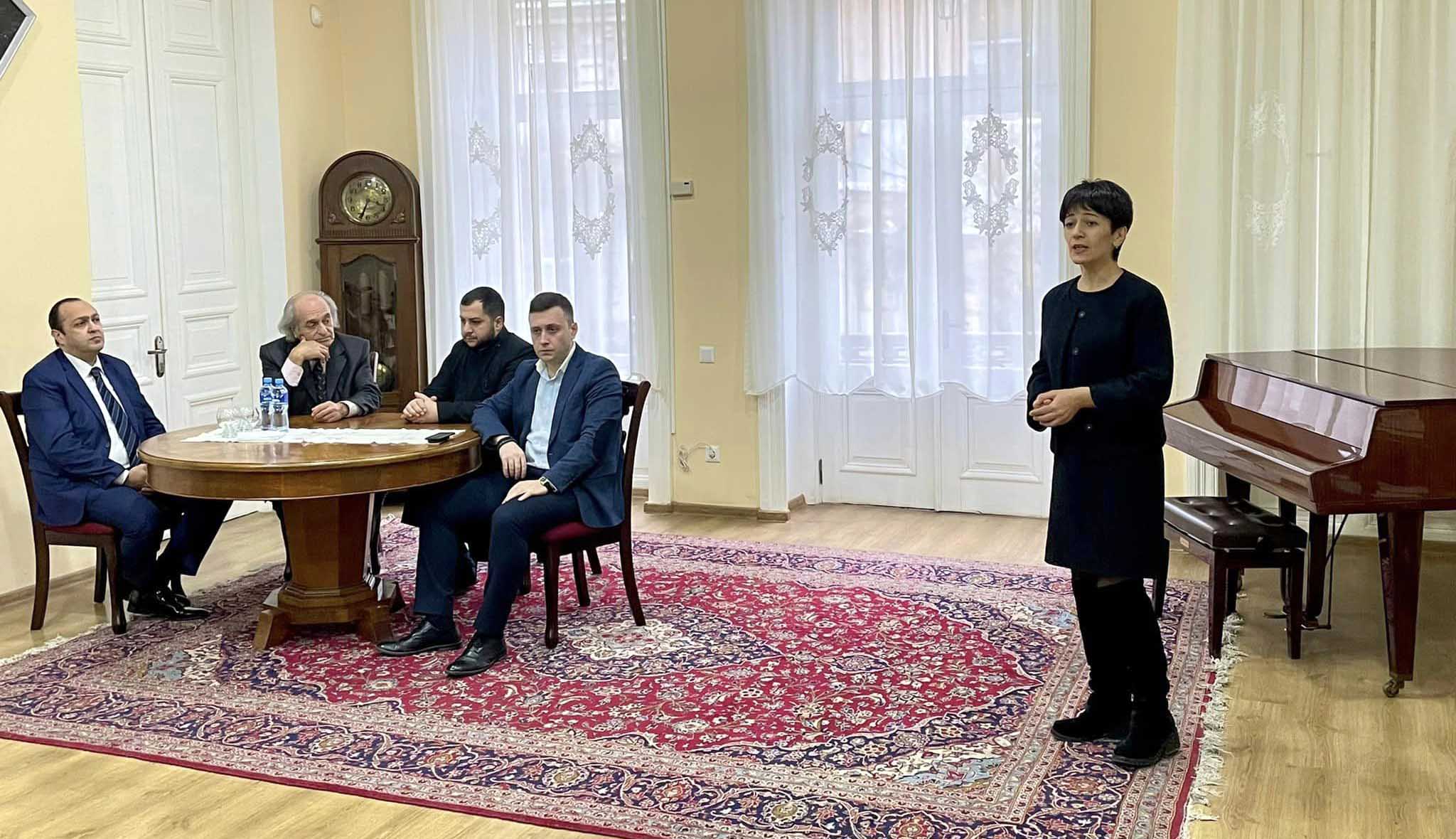 Gisaneh Hovsepyan, head of the "House of Hovhannes Tumanyan" Center presented the story of the establishment of the Center. Afterward, the author of the musical drama "Anoush", maestro Arzas Voskanyan, spoke up about his idea to dedicate the drama of the "Anoush" songs to the 150th anniversary of two prominent figures of the nation, Hovhannes Tumanyan and Komitas. And on that day, in Hovhannes Tumanyan's former apartment, arias about the pure and devoted love story of Anoush and Saro, young people who represented the people, were spread with unique sound and emotion.
On the same day, Tatul Altunyan Song and Dance Ensemble performed at the "Hayartun" center, where representatives of the Armenian public, literature and art in Tbilisi took their seats in the crowded hall.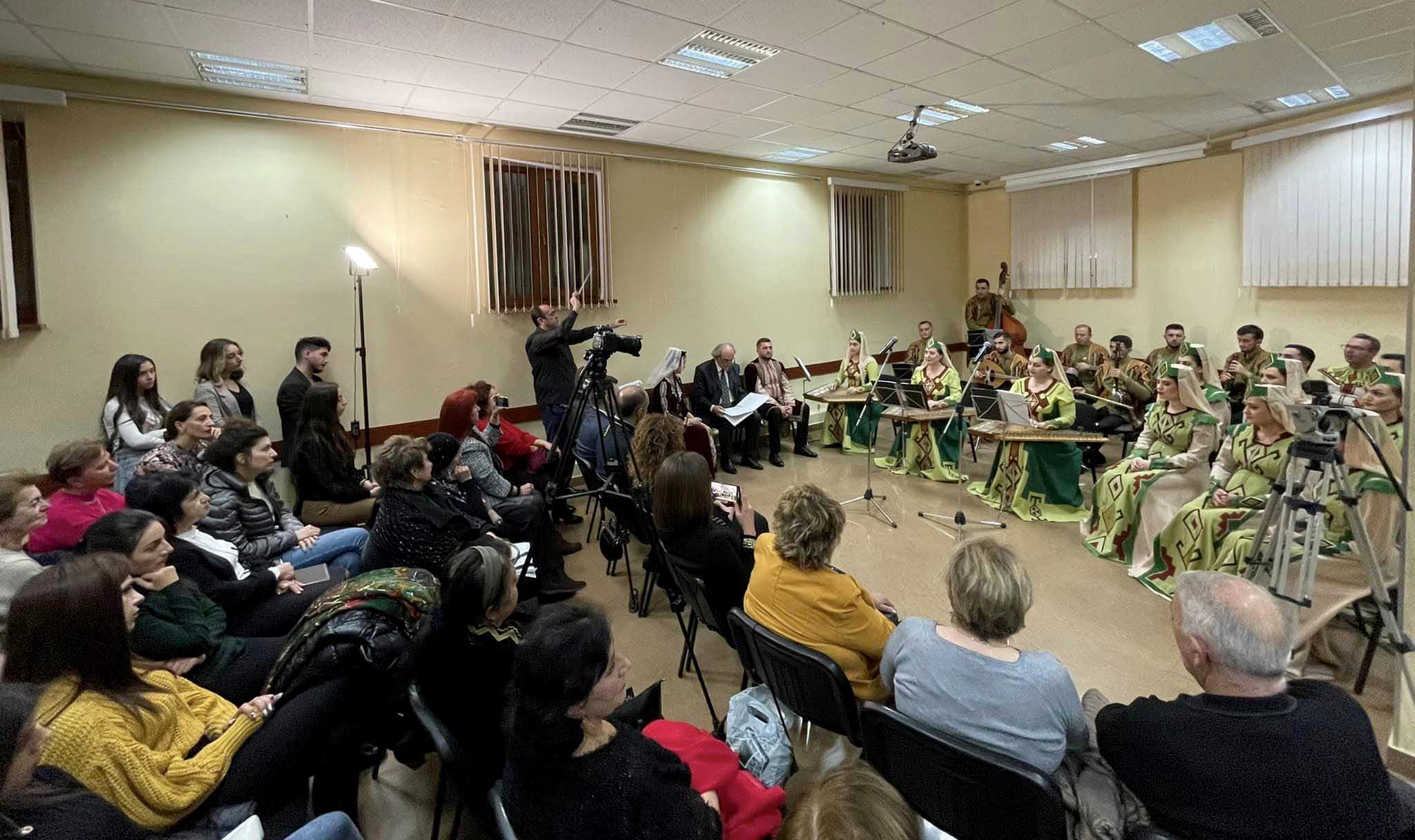 After the warm welcoming speech by the head of the Center Eugenia Markosyan, the beautiful performance took place. Episodes from Arzas Voskanyan's musical drama "Anoush" elaborated by Komitas, with the emotions depicted by Tumanyan,were performed by talented members of the Ensemble, accompanied by recitals, songs, and folk instruments, conducted by docent Grigor Voskanyan. Indeed, it was a folk ritual singing of the poem "Anoush" by Hovhannes Tumanyan and by great Komitas.
After a standing ovation from the attendees, Rev. Father Archimandrite Zaven Yazichyan concluded the event with a speech of appreciation. The latter conveyed the blessings and good wishings of the Primate of the Armenian Diocese in Georgia Rev. Father Archimandrite Kirakos Davtyan and expressed his appreciation to each member of the Ensemble, conductor Grigor Voskanyan, and maestro Arzas Voskanyan, who laid a memorial stone for the events dedicated to the Ensemble's 85th anniversary in Tbilisi, especially in the "House of Hovhannes Tumanyan" and "Hayartun" Centers which are closely related to Tumanyan's personality and his activities.
It should be added that on December 3, the jubilee concert of Tatul Altunyan Song and Dance Ensemble will be held in the concert hall named after Vakhtang Salaridze in Tbilisi.