The new academic year began in the educational and cultural centers of the Armenian Diocese in Georgia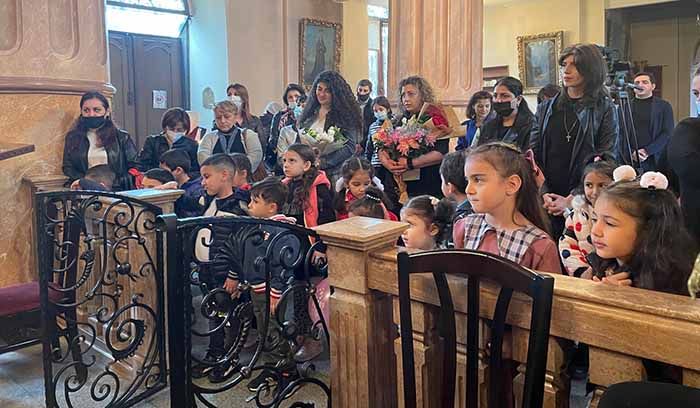 For the second year, the Covid-19 pandemic has been dictating its rules to the education system, making it online, depriving the growing generation of the opportunity to attend classes in classrooms and socialize with friends.
Happily, by changing the procedure, all types of educational institutions in Georgia returned to their normal way, that means preschools and classrooms have opened their doors to students.
On October 5, 2021, extraordinary happiness prevailed at the ''Hayartun'' Educational and Cultural Center of the Armenian Diocese in Georgia, where the new academic year also started.
In accordance with the tradition, the students of the ''Saint Moses of Khoren'' (''Surb Movses Khorenatsi'') preschool of the Center, accompanied by their parents and teachers, participated in the Morning Service at Saint Etchmiadzin church in Tbilisi.
At the conclusion of the Service, Blessing of Children Service was offered under the presidency of the Diocesan Prelate Rev. Father Archimandrite Nshan Hmayakyan and with the participation of Rev. Father Samvel Torosyan and Deacon Rev. Father Yeghishe Harutyunyan. The Prelate conveyed the blessings of the Primate of the Armenian Diocese in Georgia, Rev. Father Archimandrite Kirakos Davtyan and congratulated those present on the occasion of the new academic year start. Rev. Father Kirakos Davtyan appreciated the role of the Armenian school and church in maintenance of the Armenian identity and national values, highly appreciated the work dedicated to the teaching and upbringing generations done by teachers, parents and the Diocesan Educational Department where Saint Moses of Khoren Preschool operates and which students continue their education in their mother language schools. He also valued the activities of ''Hayartun'' Center where Armenian schoolchildren complement their knowledge with national culture. Rev. Father encouraged the schoolchildren to study well, not to spare efforts, to overcome difficulties in the learning process because only education is the guarantee of a good future.
The festive day became more joyful for the preschool students: at the initiative of the ''Hayartun'' Center Head Eugenia Markosyan, a beautiful surprise was waiting for the children. They were welcomed by their lovely characters Spider-Man (Henrikh Petrosyan) and Zoro (Aram Mikayelyan) and were immediately involved in various games, so the newcomers did not even have time to cry.
After a break of about a year, more than thirty children will spend their day in the two groups operating in the Diocesan Saint Moses of Khoren Preschool with fun games, interesting lessons and funny cartoons. Classes began in the other art groups as well.
Today, the educational, cultural and youth centers, such as Alexander Mantashyants in Batumi, Saint Gregory in Narek (Surb Grigor Narekatsi) in Rustavi, Rafael Javakh in Ninotsminda, Archimandrite Karapet Bagratuni in Akhalkalaki, Vardges Surenyants in Akhaltsikhe received their students. Admission to both preschool and various art groups continues in Diocesan Centers.