Women and the spread of the Holy Bible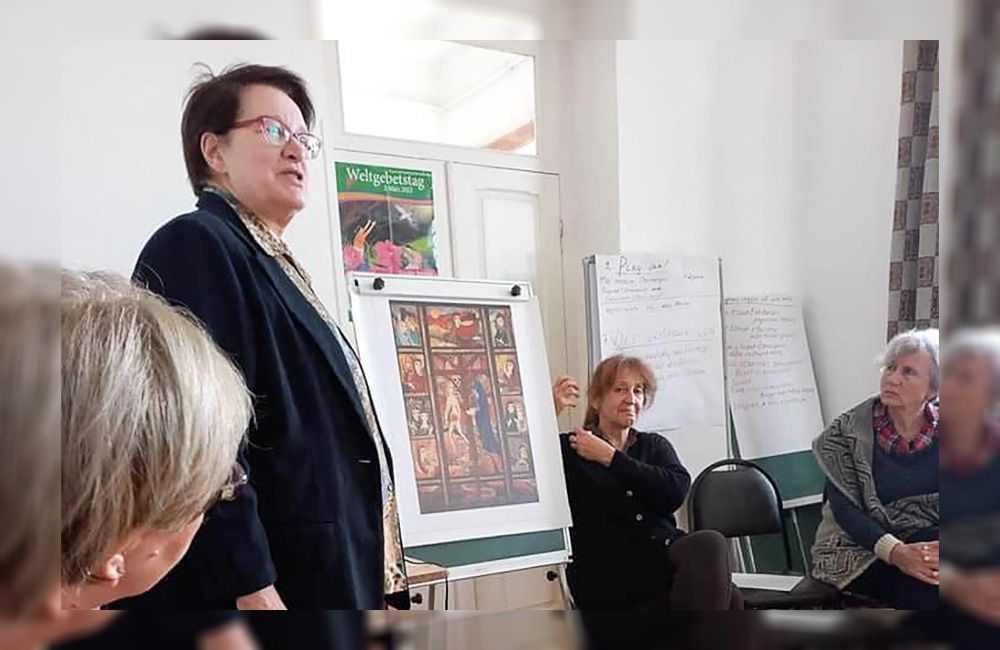 The traditional seminars by the Evangelical Lutheran Church in Georgia resumed after a two-year break.
On October 24-29, 2022, a seminar training dedicated to the inclusion of women in spreading the ideas of the Holy Book Bible was held in Ghvareli regional center, Kakheti region, Georgia. The seminar was attended by 22 female faithful who arrived from Tbilisi, Batumi, Borjomi, Bolnis, Rustavi, Darakert, Yerevan, and Baku. They were representing different denominations of the Christian faith.
The five-day training was diverse, interesting, and informative. The importance of the role of women in the correct understanding and dissemination of various issues of the Holy Bible was discussed with lively dialogues and additions.
The basis of the current seminar was chosen by the German artist Louise Teil's painting "Women's characters in the Bible" with images of the Virgin Mary, her mother Anna, Mary Magdalene, Rebecca, Rachel, Sarah, Eve, and Martha.
The motto of the seminar was: the "Fear not" Biblical message. The preparation, organizational ability, and deep knowledge of the discussed material demonstrated by Bishop Irina Solei, pastor of the Evangelical Lutheran Church and coordinator Galina Kuznetsova-Lapachi who organized and conducted the event were invaluable. The training was conducted using various games, and quizzes, which made it lively, and full of novelty. The organizer paid attention also to the morning exercises, excursions, getting to know each other, and conversations on various issues.
During the days of the training, reference was made to the Chinese province of Taiwan, which was chosen for this year by the international committee of the "World Day of Prayer". Geographical location, history, and people's preferences of Taiwan were presented.
During the group activities, women representing different churches made speeches based on the sermons of the prophets and evangelists of the Holy Bible.
The member of the Association of Armenian Women in Georgia "Shushanik" Gohar Mazmanyan, faithful of the Lutheran Church: Irina Harutyunyan-Ebel from Darakert, Gayane Melkonyan-Chikhradze from Rustavi, and Lusine Karapetyan from Yerevan chose from the sermons of false prophets and Jesus Christ: "Blessed Are the Merciful, for They Will Receive Mercy" (Matthew 5:7) passage.
The Association of Armenian Women in Georgia "Shushanik" expresses its gratitude to the Evangelical Lutheran Church in Georgia for the invitation and opportunity to participate in the seminar training.