Commemoration of St. Nersess the Great and St. Bishop Khad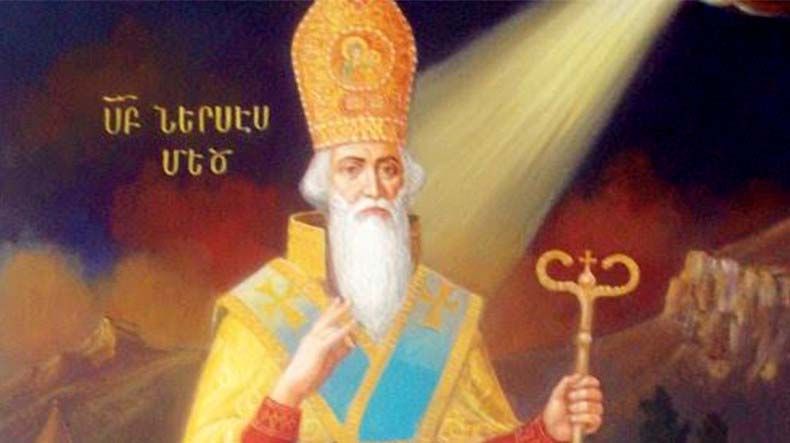 This year is celebrated in::

2023-06-17
St. Nersess the Great, Catholicos of All Armenians (353-373) is one of the most prominent Armenian Pontiffs. According to historical sources he is from the family and lineage of St. Gregory the Illuminator, and grandson of the Armenian Patriarch Houssik.
Following the death of Catholicos Paren I (of Ashtishat), Nersess is a chamberlain (chief attendant or steward) for the Armenian King Arshak. Although a layman at the time, he is found to be the most deserving candidiate for the throne of the Catholicos, and under the compulsion of the King is ordained as a priest, and consecrated as Catholicos. The Armenian Pontiff becomes the first great reformer of the Church and a renowned benefactor of his nation. Upon Nersess' initiative, a National Ecclesiastical Council is convened in Ashtishat in 354. Upon his initiative, decisions are made which are intended to regulate and bring order to the spiritual-ecclesiastical life, based upon the defined moral principles of the family. Nersess the Great establishes numerous monasteries and schools. He builds hospices, residences and hospitals for the ill, homeless and the poor. The Catholicos was always with his flock. The Armenian people won the battle of Dzirav due to St. Nersess' unceasing prayers for victory on a nearby mountaintop, as the war was being waged on the field below.
For his devout activity Nersess the Great is also called the "Illuminator of Hearts".
Bishop Khad was a supporter of Nersess the Great, and was instrumental in the implementation of the Catholicos' initiatives and undertakings. Historian Pavstos Buzand identifies Bishop Khad as the coadjutor of the Armenian Pontiff, St. Nersess the Great.
This feast has been and will be on the following dates
2030-06-29 Commemoration of St. Nersess the Great and St. Bishop Khad
2029-06-09 Commemoration of St. Nersess the Great and St. Bishop Khad
2028-06-24 Commemoration of St. Nersess the Great and St. Bishop Khad
2027-06-05 Commemoration of St. Nersess the Great and St. Bishop Khad
2026-06-13 Commemoration of St. Nersess the Great and St. Bishop Khad
2025-06-28 Commemoration of St. Nersess the Great and St. Bishop Khad
2024-06-08 Commemoration of St. Nersess the Great and St. Bishop Khad
2023-06-17 Commemoration of St. Nersess the Great and St. Bishop Khad
2022-06-25 Commemoration of St. Nersess the Great and St. Bishop Khad
2021-06-12 Commemoration of St. Nersess the Great and St. Bishop Khad