Commemoration of the Children of Bethlehem, Acacius the Witness, Movkima the Priest and Kotriatos the Soldier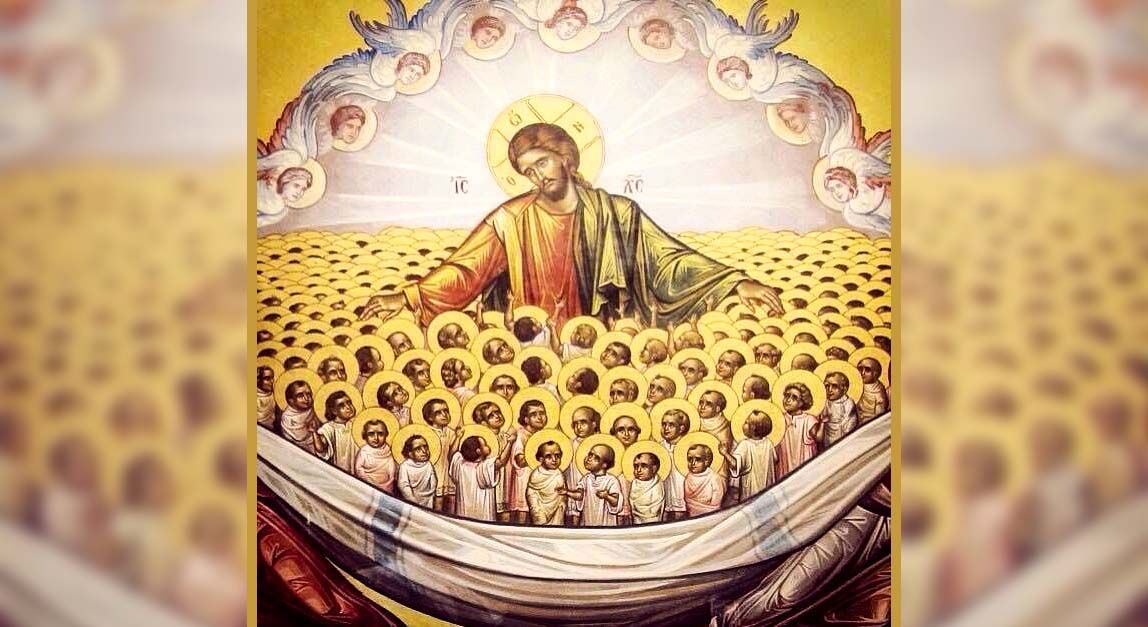 This year is celebrated in::

2023-06-12
In the Gospel according to St. Matthew, we read about the slaying of the innocent children prior to the birth of Jesus Christ (Matthew 2:16-18). Men, who had come from the East to Jerusalem, spread the news of the birth of a "baby born to be the king of the Jews". When this news reached Heron, King of Judea, he became very troubled. As a result of his jealousy and rage in not being able to locate the newborn baby, the King orders the death of all male children in Bethlehem who are two years old and younger. The blood of the innocent children became the first blood shed for the sake of Christ. The Armenian Church has dedicated many church hymns and songs to the memory of the Children of Bethlehem, and they are commemorated on the Monday following the Feast of the Cathedral of Holy Etchmiadzin.
The same day the Armenian Church celebrates the memory of three saints, martyred for the sake of Christianity - Acacius the Witness, Movkima the Priest and Kotriatos the Soldier.According to "Haysmavourk", Acacius was martyred for the faith during the reign of the Emperor Likianos. Being subjected to indescribable torments and managing to survive surrounded by wild beasts, the saint was beheaded in 310 AD.
Movkima the Priest, Byzantine by birth, was the son of a high-ranking Christian officer. Being a devout preacher of Christianity, he was subjected to many torments by the governor of the city Ampipolis of Macedonia. Later, he was sent to Byzantium, where he was condemned to death by beheading. Emperor Constantine would later build a magnificent church over the tomb of the saint.
Kotriatos the Soldier was martyred as a result of persecutions by the pagan King Dekos. Considering himself to be a "servant of the Heavenly King", the brave saint endured many tortures through the strength of his Christian faith and became an example for others to remain steadfast in times of trouble. Kotriatos was also put to death by beheading.
This feast has been and will be on the following dates
2030-06-24 Commemoration of the Children of Bethlehem, Acacius the Witness, Movkima the Priest and Kotriatos the Soldier
2029-06-04 Commemoration of the Children of Bethlehem, Acacius the Witness, Movkima the Priest and Kotriatos the Soldier
2028-06-19 Commemoration of the Children of Bethlehem, Acacius the Witness, Movkima the Priest and Kotriatos the Soldier
2027-05-31 Commemoration of the Children of Bethlehem, Acacius the Witness, Movkima the Priest and Kotriatos the Soldier
2026-06-08 Commemoration of the Children of Bethlehem, Acacius the Witness, Movkima the Priest and Kotriatos the Soldier
2025-06-23 Commemoration of the Children of Bethlehem, Acacius the Witness, Movkima the Priest and Kotriatos the Soldier
2024-06-03 Commemoration of the Children of Bethlehem, Acacius the Witness, Movkima the Priest and Kotriatos the Soldier
2023-06-12 Commemoration of the Children of Bethlehem, Acacius the Witness, Movkima the Priest and Kotriatos the Soldier
2022-06-20 Commemoration of the Children of Bethlehem, Acacius the Witness, Movkima the Priest and Kotriatos the Soldier
2021-06-07 Commemoration of the Children of Bethlehem, Acacius the Witness, Movkima the Priest and Kotriatos the Soldier