Surb Harutyun (Holy Resurrection) Church of Bughashen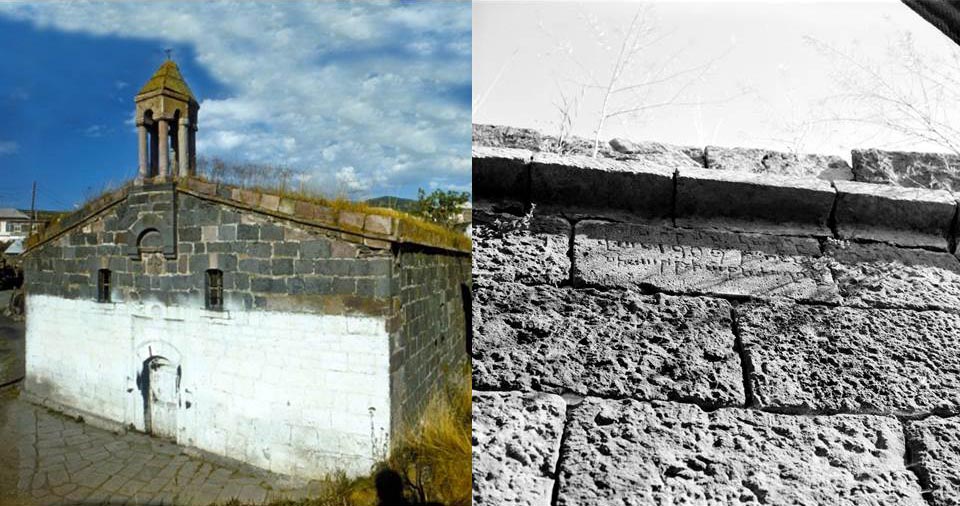 Founded in the first half of the 19th century
Church Foundation: In 1830 some Armenian residents from Tandzut and Brnakapan villages of Karno province were resettled in Bughashen. In those years, the people of the village built a wooden, then a stony church with wooden cover. The church was consecrated by the name of Surb Harutyun. As of 1840 the number of church parishioners was 111.[1] In the 1840s it was still wooden,[2]and in the 1880s - stony with wooden cover.[3] In 1899 the church was destroyed by the earthquake and completely renovated in 1909. The proving construction protocol has also been preserved. [4] After the renovation, the church operated until the 1930s. During the Soviet times it was closed and turned into a warehouse, and the priest was exiled.[5]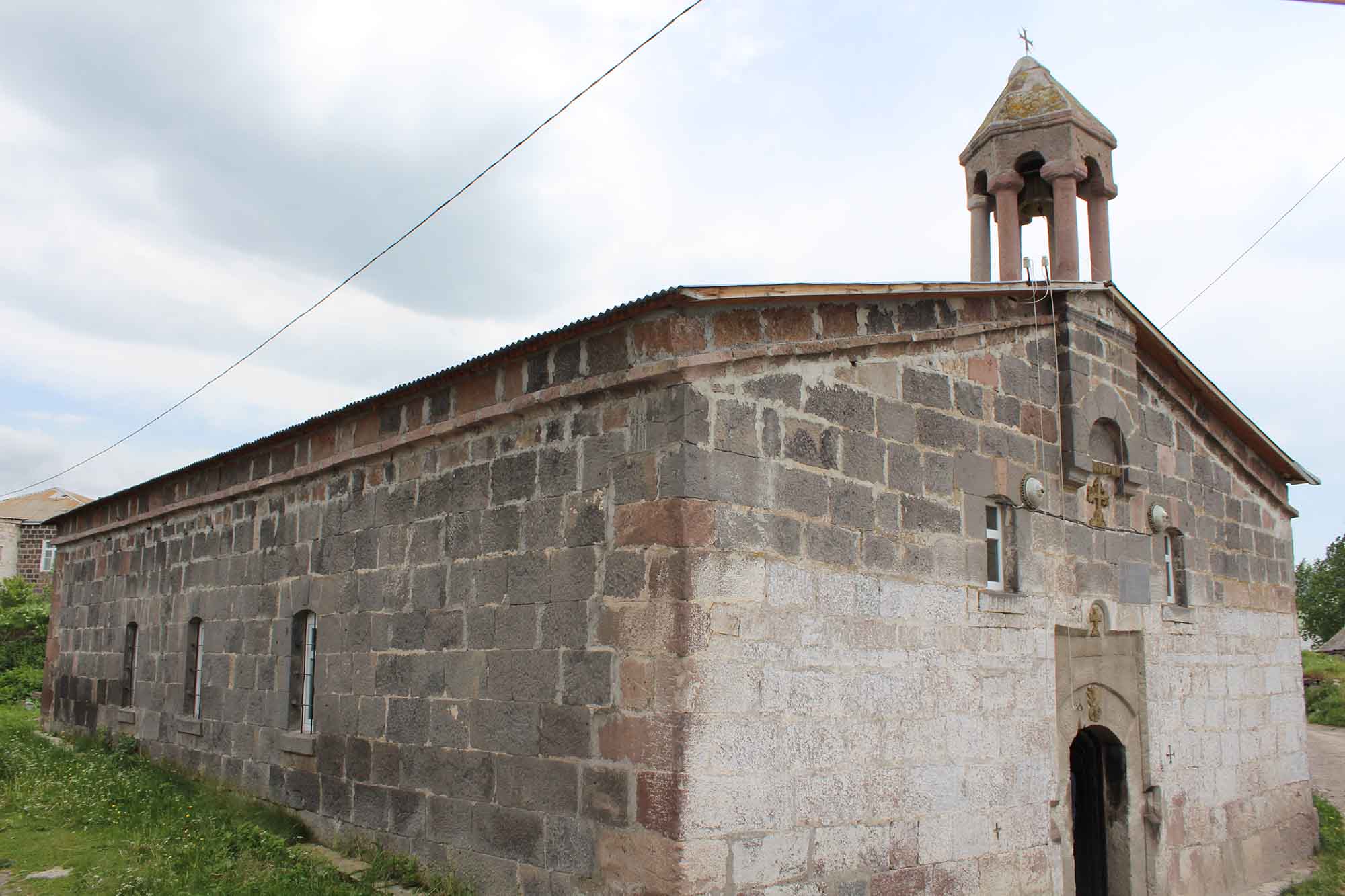 Architecture: The church is built of gray tuff and belongs to the hall type . The total dimensions are 15.93x10.14 meters. The western facade is built of polished stone. The bell tower with a pointed spire is set on six columns on the same side.[6] The facades of the church are not ornamented. There are windows on the southern and northern walls. The entrance is open on the western wall. There is an inscription in Armenian above the entrance. The gable roof is installed with tinplate. The interior walls are plastered and painted. The Altar is on the eastern part with its chapels on the right and left sides. The Baptismal Font is located on the northern wall. The ceiling is covered with plastic modules.[7]
Parish priests: Among the priests of Surb Harutyun Church of Bughashen were Martiros Saghatelyan,[8] Minas Mkrtchyan [9] and Galust Palyants,[10] who priested in the 1830-1880s.
School: A mention about the church-parish school can be found in the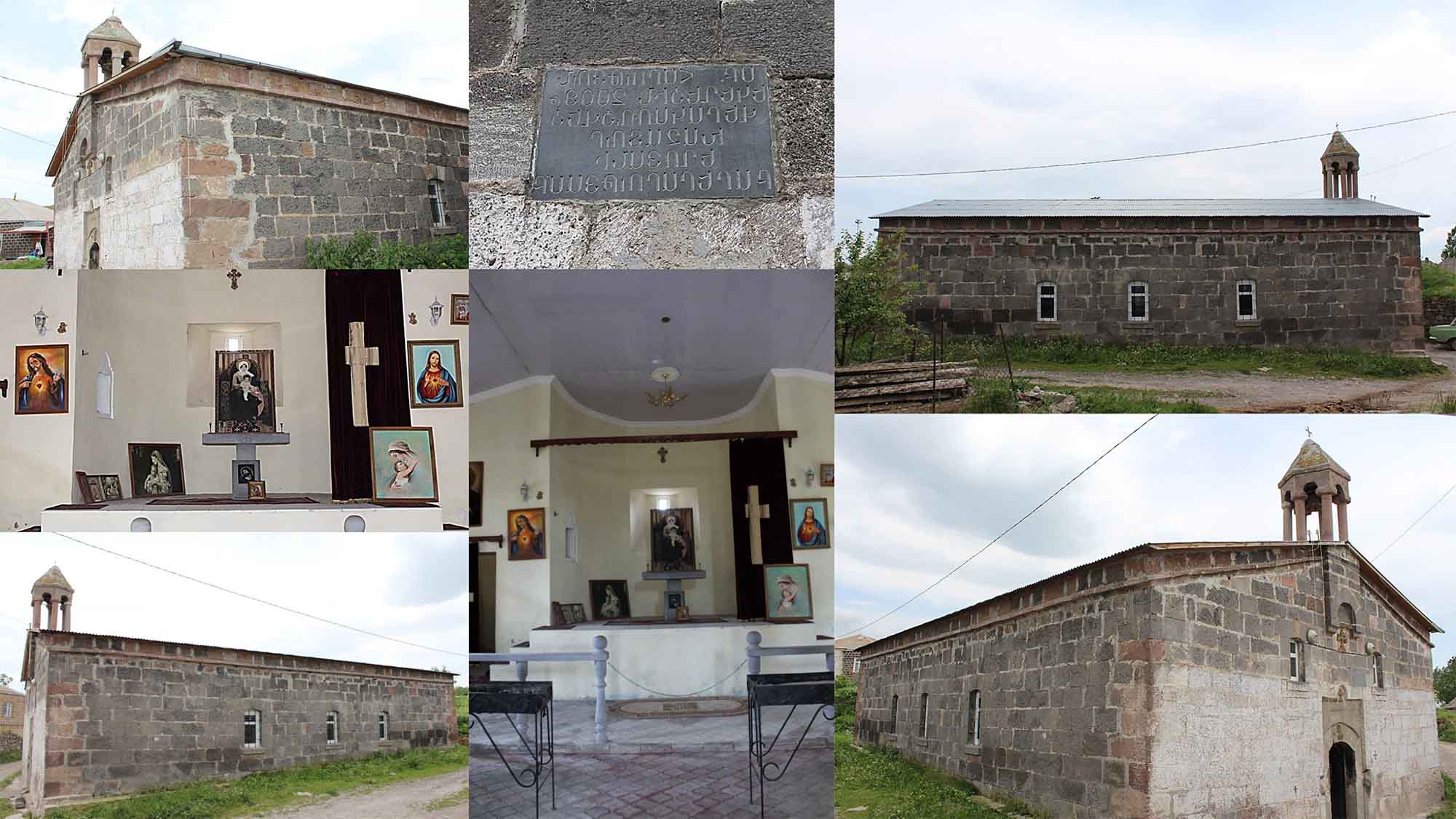 documents relating to the 1860s. Particularly, according to the school bulletin of the Armenian Apostolic Church in Georgia and the Imeretian Diocese of 1869, the church-parish school of Bughashen actually had 28 pupils. It was founded by means of the local society in 1864.[11]
Church Re-consecration: Surb Harutyun Church in the village of Bughashn of Akhalkalaki region was re-consecrated on August 8, 2009 by the Primate of the Diocese of the Armenian Apostolic Church in Georgia, His Grace Bishop Vazgen Mirzakhanian with the participation of the Prelate of the Samtskhe-Javakheti and Tsalka's General Prelacy Rev. Father Babken Salbian. After the ceremony they served the first liturgy. Surb Harutyun Church was renovated and the area was improved by means of Khachatur Eghoyan, who is from Bughashen by origin now living in Russia.
Diocese of the Armenian Apostolic Church in Georgia
Armenian Historical and Cultural Heritage Research Center in G
[1] NAA , ֆ. 53, ց. 1, գ. 3800, թ. 4-ի շրջ.
[2] NAA, ֆ. 53, ց. 1, գ. 3802(1), թ. 63-ի շրջ.-64
[3] "Ardzagank", 1885, N 3, p. 43
[4] S. Karapetyan,Javakhk,Yerevan,2006,p. 126
[5] Press Service of the Diocese of the Armenian Apostolic Church in Georgia. www.aysor.am/en/news/2009/08/13/churchsacr/49626
[6] S.Karapetyan , in the same place
[7] Armenian Historical and Cultural Heritage Study Center in Georgia.
Diocese of the Armenian Apostolic Church in Georgia
[8] NAA, ֆ. 53, ց. 1, գ. 457, թ. 50
[9] NAA, ֆ. 53, ց. 2, գ. 1031, թ. 2
[10] NAA, ֆ. 53, ց. 2, գ. 1044, թ. 2
[11] NAA, ֆ. 53, ց. 1, գ. 3977, թ. 55-իշրջ.-56: