Surb Errordutyun (Holy Trinity) Church of Kulikam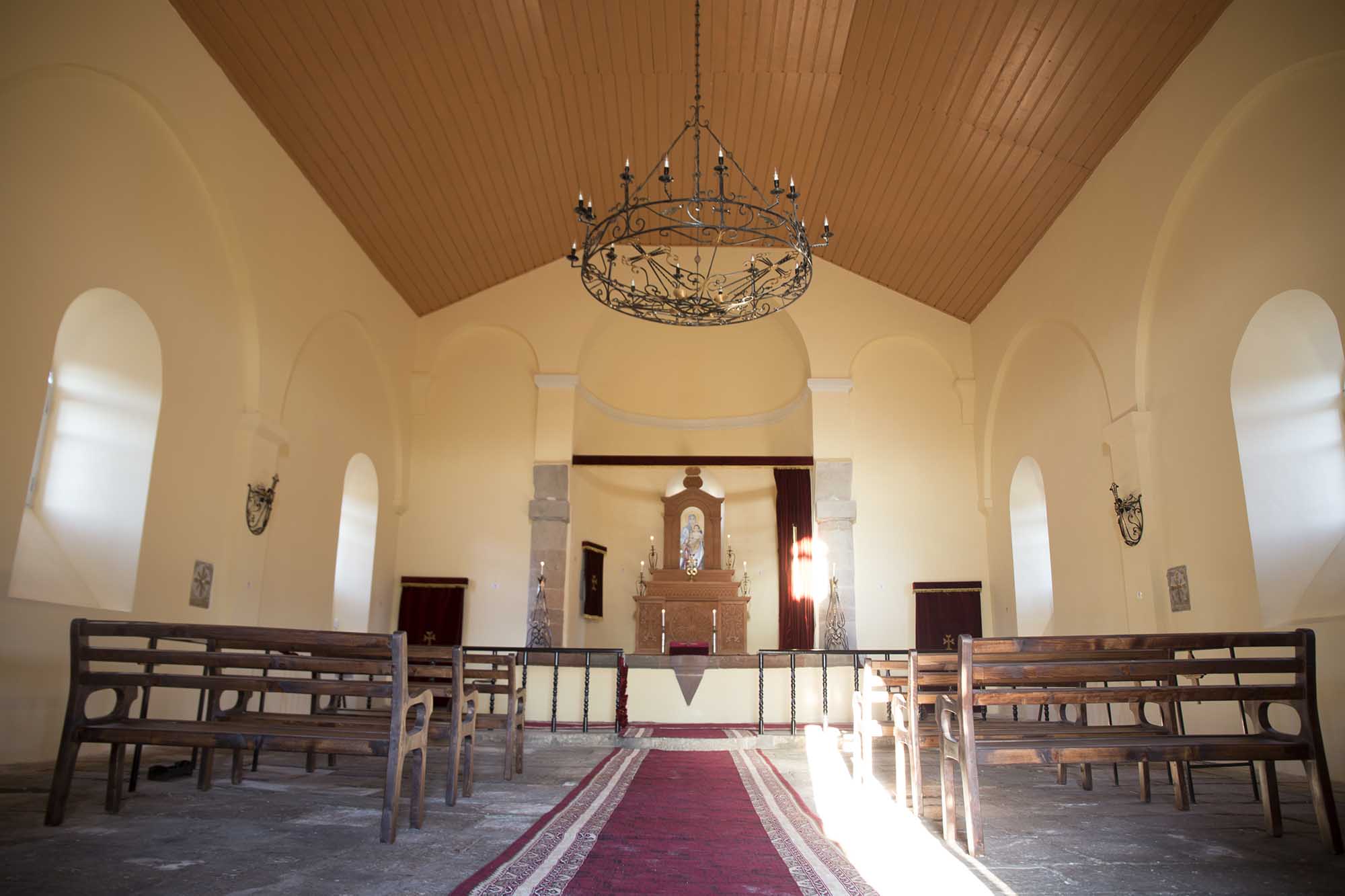 Surb Errordutyun (Holy Trinity) Church of Kulikam
Church construction: The earliest data about the church of the village of Kulikam, located 2 km north-east of Akhalkalaki, is available in the archival documents beginning from the 1840s. In particular, according to the church bulletin of 1840, the number of church parishioners was 210.[1]
In the 1870s the resettled people of the village got down to build a new building on the site of the old church, but the works were interrupted because of a shortage of materials. "... the village has an old ruined church that was renovated partially, but when the landowners' pressure increased, they had no strength to continue the renovation of their temple ..."[2]
Church restoration works were completed only in the 80s of the 19th century. From 1884 the stony church with wooden cover began its regular operation.[3] According to the church bulletin of 1905, the main sum of Surb Errordutyun Church was 919 r. 7 k. by silver,[4] and 791 r. 41k. in 1915.[5]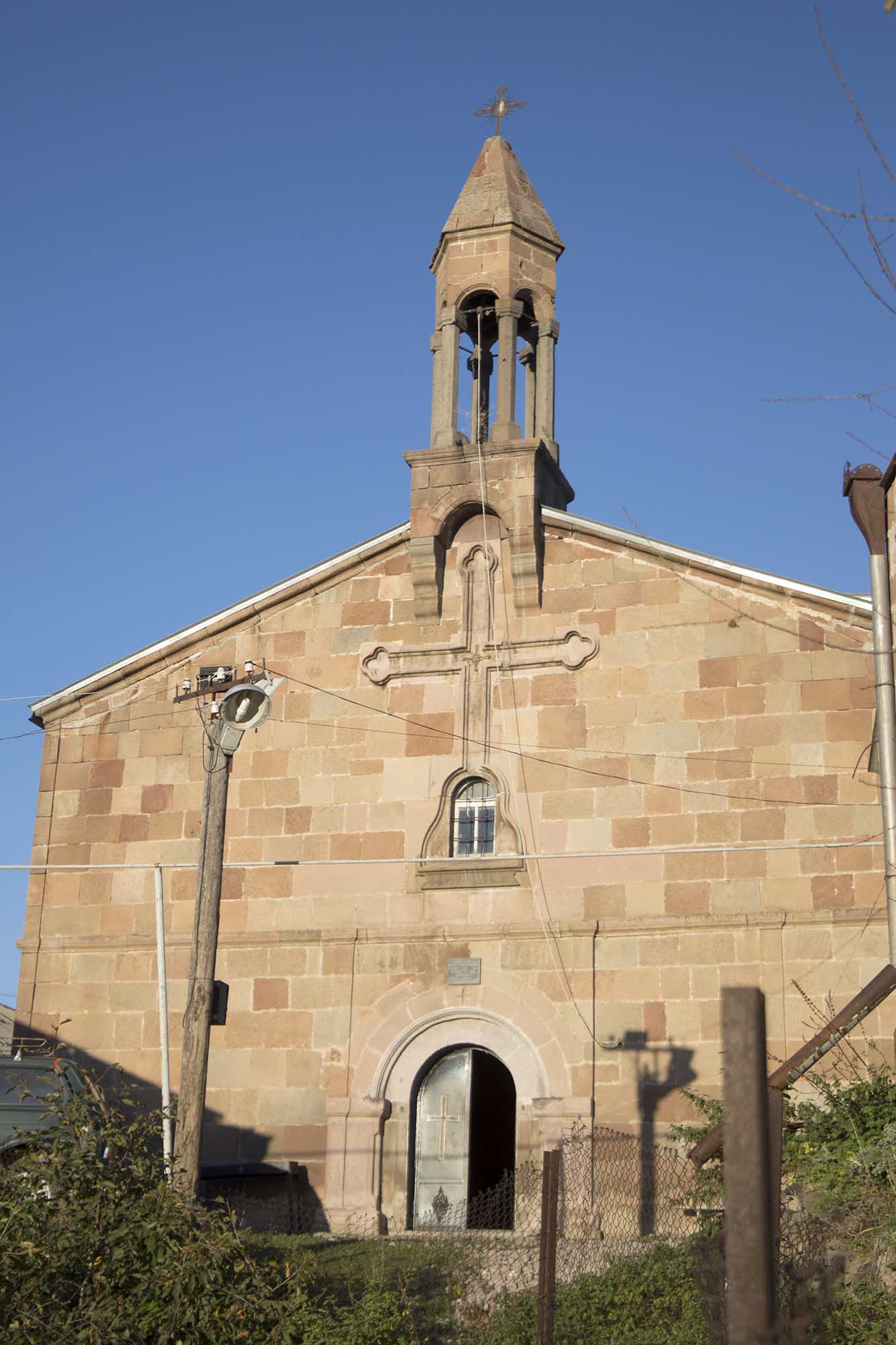 Architecture: The bell tower ,rising on six pillars ,is built at the top of the church's western façade. The only entrance is from the western front. There is an inscribed khachkar set on the eastern façade, which was moved from the Armenian cemetery of the village. There is a statement on the entrance wall of the present church: "THE HOLY TRINITY CHURCH OF KULIKAM BUILT IN 1865, RENOVATED IN 2000". [6] The church, like many other churches of Javakheti of the era, belongs to the single-nave basilica type.
Parish priests: In the 1860-1880s the priest of Surb Errordutyun Church was Father Toros Ter-Torosyan Gabrielyants.[7]
Church renovation and re-consecration: Church renovations were also carried out in the late 90s of the 20th century, by the local Stepan Uzunyan's philanthropy. Years later, the village population, not considering the construction works enough, unites philanthropists Stepan Uzunyan, Ghazar Miranyan and with the help of community entirely renovates the temple, improves the church environment, makes a Holy Table with rich Armenian ornaments. On July 1, 2018, in the village of Kulikam in the Akhalkalaki region, Surb Errordutyun Church was re-consecrated by the Primate of the Armenian Apostolic Church in Georgia , His Grace Bishop Vazgen Mirzakhanyan with the participation of the local clergy.
After the Opening of the Doors Service (Drnbatsek), the Holy Table ,the Baptismal Font and the 16 columns of the Holy Trinity Church were blessed with Holy Chrism.
The first Divine Liturgy in the newly-opened and re-consecrated church was served by the Rev. Father Tatev Marukyan. During the Divine Liturgy, the confession took place and the believers received communion.
Diocese of the Armenian Apostolic Church in Georgia
Armenian Historical and Cultural Heritage Research Center in Georgia
[1] NAA, ֆ. 53, ց. 1, գ. 3800, թ. 4
[2] "Mshak", 1877, N 11, p. 2
[3] "Ardzagank", 1885, N 3, p. 43
[4] NAA, ֆ. 53, ց. 1, գ. 3912, թ. 112 շրջ.-113
[5] NAA, ֆ. 56, ց. 15, գ. 795 (part 3), թ. 316 շրջ.-317
[6] S. Karapetyan, Javakhk, Yerevan, 2006, p. 310-311
[7] NAA, ֆ. 53, ց. 2, գ. 3338, թ. 2; գ. 3344, թ. 2; գ. 3363, թ. 3; գ. 3368, թ. 3