SURB KHACH (THE HOLY CROSS) CHURCH OF DAMALA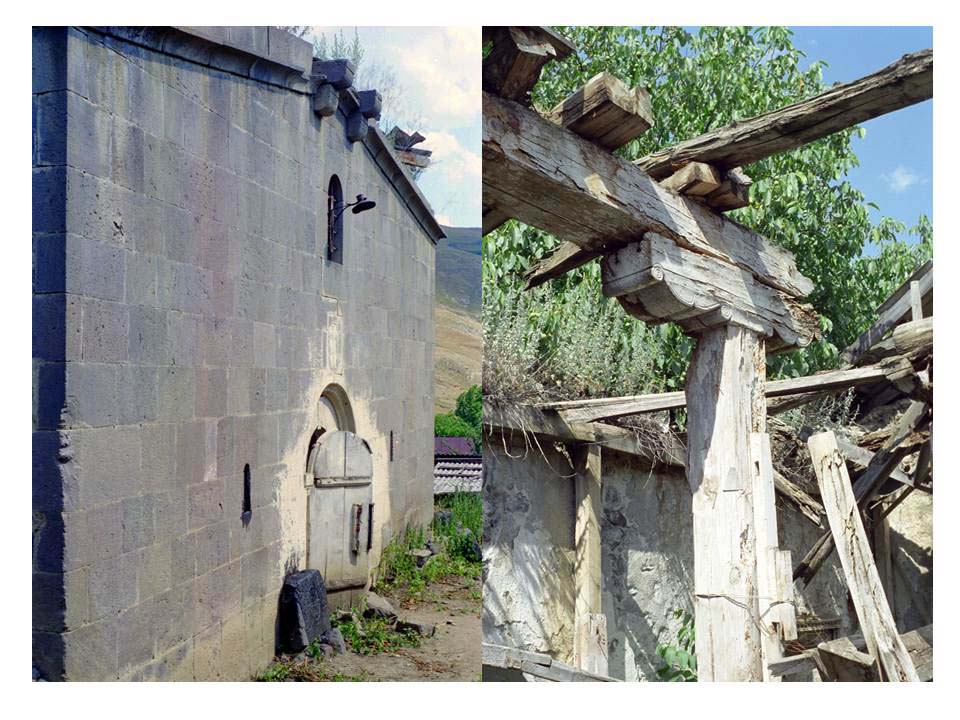 THE CHURCH WAS FOUNDED IN THE FIRST HALF OF THE 19TH CENTURY.
Damala village is the largest village of Aspindza region in Samtskhe-Javakheti. The ancestors of the residents emigrated from Erzurum province in 1829-1830.
Establishment of the church: The earliest mentions of Surb Khach church of Damala village (3 km east of Aspindza regional center) were in the archival documents of the Armenian Apostolic Church in Georgia and Imeretian Diocese. The name of the church appears in the bulletin of the Diocesan Churches in 1840 [1]. The church was renovated in 1843 [2]. In 1866 the church was still wooden [3]. After renovation in 1873, it was mentioned as a 30-feet-long stone building [4]. As of 1905, Surb Khach church had 791 ruble and 88 kopeck (penny) property with silver, as well as one house [5].
The cemetery is located around the Surb Khach church. In addition to the quadrangular pedestals, there are maintained late medieval tombstones.
There is a sanctuary from X-XI centuries called Vank near the village [6].
Architecture: Surb Khach church has a type of basilica. The external dimensions are 16,80×10,55m [7]. The entrance to the church is from the western side. There is a small belfry built on 4 columns on the western part of the roof [8].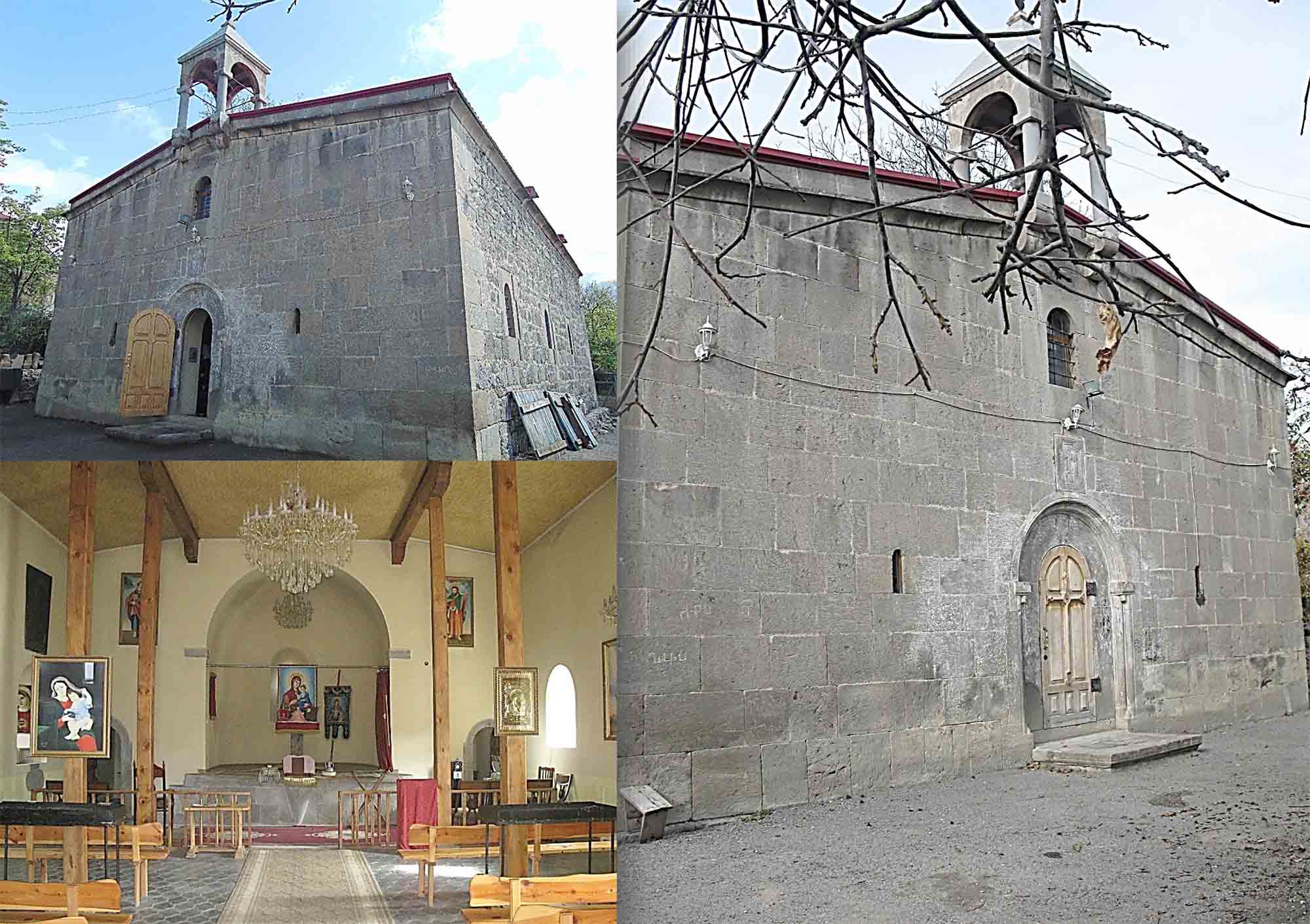 Parish priests: Rev. Father Petros Ter-Astvatsaturyan was mentioned as a priest, and Vardan and Hakob Ter-Petrosyanner were mentioned as tbirs (clerk) in the clergymen's bulletin of Georgia and Imereti Diocese in 1839-1840 [9].
School: The parochial church of Damala village is mentioned in the bulletin of the diocesan schools in 1865 [10]. In the later decades of the 19th century, the school was closed and reopened. In 1915 it was a one-class school, which was functioning with the means provided by the Caucasian charity organization [11].
The church during the Soviet and Post-Soviet Period: The church was closed in the 1920s, and the priest was exiled. For some time the church was used as a warehouse, later it demolished and the wooden roof collapsed [12].
Re-consecration of the church: As of 2004, Surb Khach church was in semi-dilapidated condition, the wooden roof was almost completely collapsed. The initiative of reconstruction of Surb Khach church was taken by former Damali beneficiaries. Surb Khach church was reconstructed and the church area was improved under the supervision of Emin Baloyan, member of the Aspindza regional assembly, and by the financial support and means provided by faithful Armenians who were born in Damala and who live in Armenia, Russian Federation, Ukraine and Kazakhstan. On May 1, 2008, Surb Khach church of Damala village, in Aspindza region was re-consecrated by the Primate of the Armenian Diocese in Georgia, His Grace Bishop Vazgen Mirzakhanyan and with the participation of the Diocesan clergy. The solemn service of re-consecration was followed by the first Divine Liturgy celebrated by Rev. Father Manuk Zeynalyan, Pastor of Akhaltsikhe and Aspindza regions [13].
Diocese of the Armenian Apostolic Church in Georgia
Armenian Historical and Cultural Heritage Research Center in Georgia
[1] NAA,, ֆ. 53, ց. 1, գ. 3800, թ. 4-ի շրջ.:
[2] S. Karapetyan, Javakheti, Yerevan, 2006, p. 495:
[3] NAA,, ֆ. 53, ց. 1, գ. 3848, թ. 75:
[4] ''Meghu Hayastani'', 1873, № 15, էջ 2:
[5] NAA,, ֆ. 53, ց. 1, գ. 3912, part 1, թ. 109-ի շրջ.-110:
[6] ''Etchmiadzin'', 2008, Ե, p. 157:
[7] S. Karapetyan, in the same place
[8] Armenian Historical and Cultural Heritage Research Center in Georgia. Diocese of the Armenian Apostolic Church in Georgia
[9] NAA,, ֆ. 53, ց. 1, գ. 457, թ. 53 և շրջ.:
[10] NAA,, ֆ. 53, ց. 1, գ. 3848, թ. 2-ի շրջ.:
[11] ''Mshak'', 1915, N 247, p. 3:
[12] ''Etchmiadzin'', in the same place
[13] ''Etchmiadzin'', 2008, Ե, p. 157-158: